The Israeli occupation confiscates eight tractors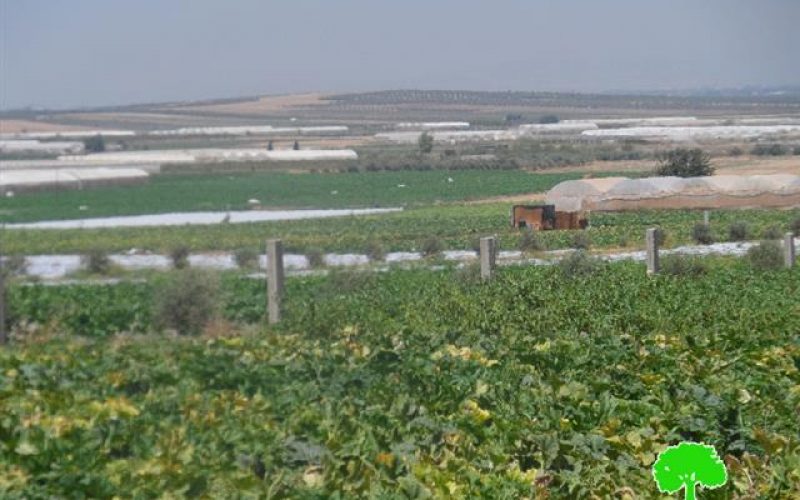 Violation: Seizure of 8 agricultural tractors
Location: The Jezreel Valley- Jenin governorate
Date: 09/06/2014
Perpetrators: The Israeli occupation army
Victims: 8 Palestinian families
Details:
On Monday morning of June 09, a large force of the Israeli occupation army broke into the Jezreel Valley (known as Marj Ibn Amer in Arabic) in Kafr Dan village where they confiscated eight agricultural tractors in the area and transferred them to Salem military camp, west of the West Bank governorate of Jenin.
It is worth noting that the Israeli army had not served the owners of the tractors any confiscation orders before. They only carried out the action under the pretext that the tractors were illegal and unlicensed.
Pictures 1-2: A view of Kafr Dan village
Mr. Atef Abu al Rub, a human rights activist, asserted to an LRC field researcher the following: "It is absurd that the Israeli occupation deemed the agricultural tools "illegal" though the tractors have been functioning in the area for long and they have licenses issued by Palestine Ministry of Transport and Communications."
Abu al Rub added, "Kafr Dan is considered among the most recurrent targets for the Israeli occupation that tries to strike the agricultural nerve in the area, especially that the village is known for its futile land that provides a source of living to hundreds of the agricultural families residing in the governorate of Jenin. The Israeli occupation has set its eyes on the giant water reservoir in the area in a bid to blow the agricultural sector."
The table gives information about the expropriated tractors:
| | | |
| --- | --- | --- |
| Affected citizen | Tractor model | Year of production |
| Hasan al Lubadi | Massfargen | 1977 |
| Khalil al Lubadi | massfargen | 1983 |
| Khalil as Samodi | joungeer | 1995 |
| Rabi' Amr | FIAT | 1987 |
| Rayan as Samodi | massfargen | 1996 |
| Raed Radwan | FIAT | 1984 |
| Azmi Ahmad | massfaragen | 1989 |
Kafr Dan is about 8, 000 dunums in area, according to the village council data. 3,000 dunums were used in agriculture before 2000. More than 600 dunums were used in harvesting oranges and known for that in the whole West Bank. Kafr Dan's products were known and liked in the West Bank and inside the green line. The village used to export vegetables and fruit especially watermelon, melon and oranges to the neighboring Arab countries.
Kafr Dan was a destination for those seeking job opportunities in the agricultural industry before 2000.
But today after the water crisis it suffers from, the agricultural production has been drastically decreasing; it is 70 % less than it used to be.
There are also crops that Kafr Dan was proud to produce, like oranges for example, that are now missing due to the water shortage in the village.
Prepared by
The Land Research Center
LRC