The Israeli occupation causes the burning of trees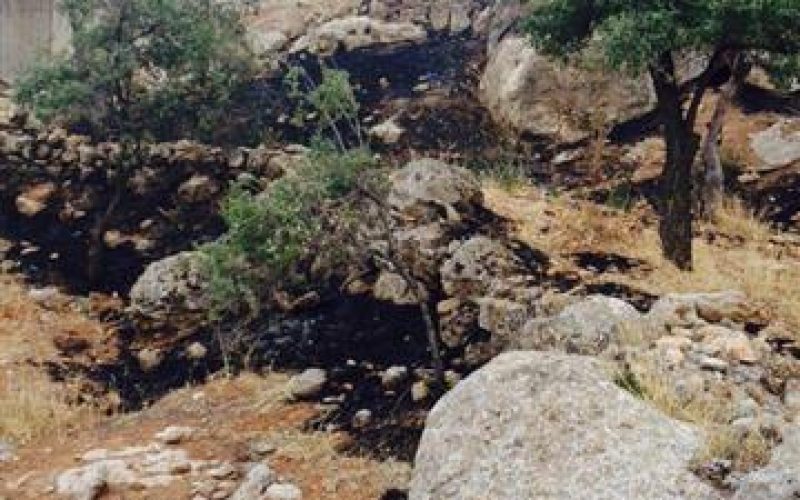 Violation: Destroying 11 trees
Location: Al Mughayyir village- Ramallah governorate
Date: 02/06/2014
Perpetrators: The Israeli occupation army
Victims: A farmer by the name of Fathi al Na'san
Details:
At 9 p.m. on Monday, June 02, a large force of the Israeli occupation army broke into al Mughayyir where soldiers threw sound bombs and tear gas canisters at the narrow lanes of the village. The sound bombs set fire to an agricultural piece of land, destroying 11 almond trees that were charred and partially damaged.
The trees belong to a farmer from al Mughayyir named Fathi al Na'san (42). The damaged trees are estimated to be 15 years of age.
Pictures 1-2: The destroyed trees
About Al Mughayyir:
Al Mughayyir is located 30 km to the north east of Ramallah; it is inhabited by around 3054 people according to 2014 PBS population projections. Most of the village agricultural farmlands are located in its eastern parts; its total area is 33055 dunums, 501 of which are built-up area. The Israeli occupation confiscated 37 dunums of Al Mughayyir lands for bypass #458.
According to Oslo Accords, about 95% of the village is under Area C (Israel maintains full security and administrative control) while only 5% is under Area B (PA is in charge of civil matters with Israel responsible for security). Here are the areas in dunums:
Area B (1, 695) dunums.
Area C (360, 31) dunums.
Al Mughayyir is strangled by Israeli colonies from all sides which makes the village a place to covet for colonists. From the eastern part of al Mughayyir, there are Tomer, Gilgal, Pezael, and Netiv Hagedud colonies while from the west, there are Shvut Rachel and its outposts as well as Shilo. Colonies of Niran, Yitav, and Kokhav Hashahar are located to the north of the village while Maale Efrayim and Migdalim to the south.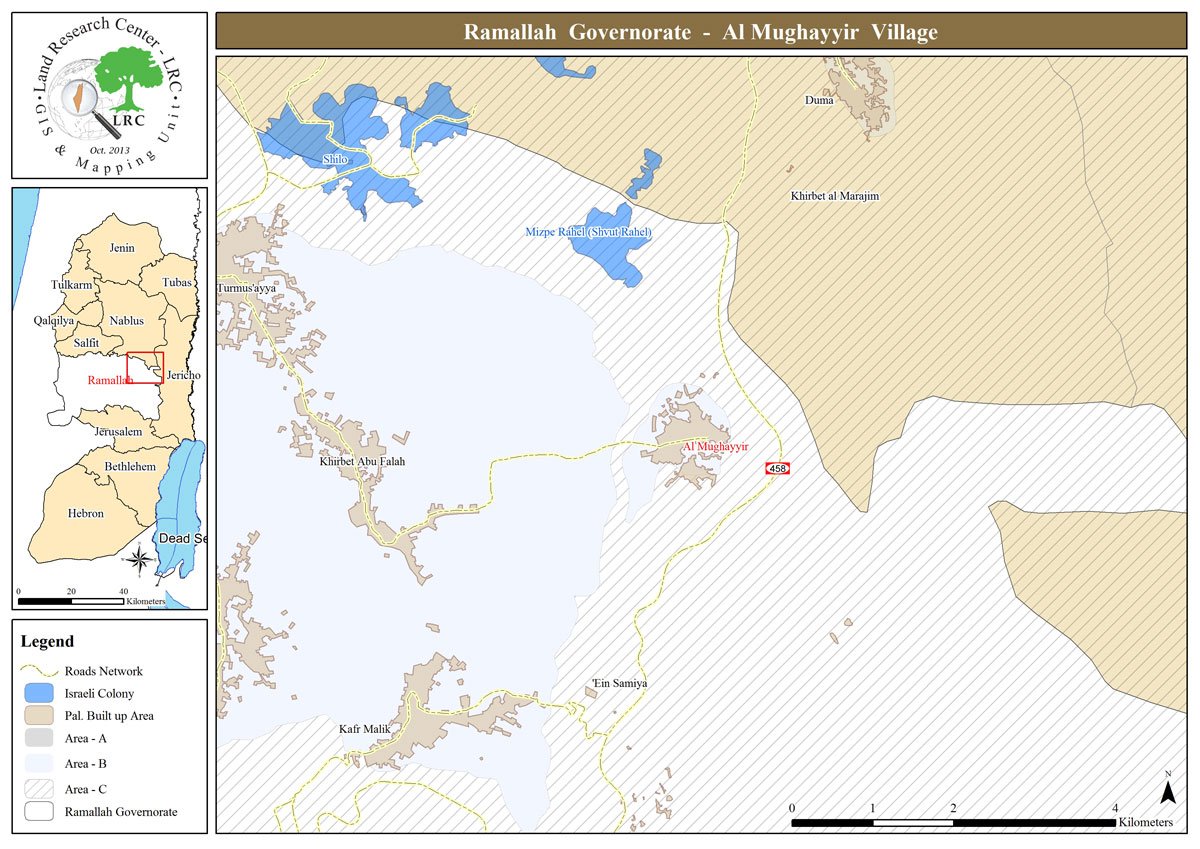 Prepared by
The Land Research Center
LRC