Stop-work Order on a rainwater harvesting pond in al-Auja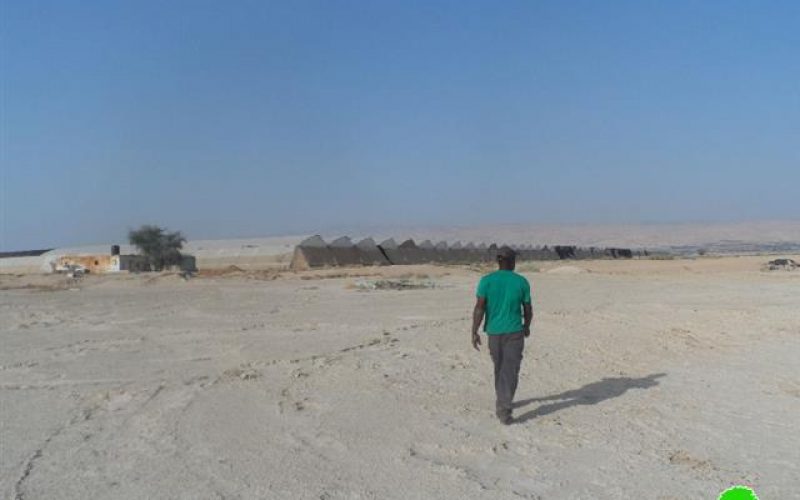 Violation: Issuance of a stop-construction order on a pool
Date: 19/06/2014
Location: As-Sa'ida, Al-Auja village/ Jericho governorate
Perpetrators: The Planning Committee of the Israeli Civil Administration
Victims: Five Palestinian families
Details:
On Thursday morning, June 19, the Israeli Planning Committee handed five Palestinian families an order to stop the construction of their agricultural pond, built in as-Sa'ida area, east of al-'Auja village and adjacent to the Jordanian borders in the West Bank governorate of Jericho.
The pond, still under construction, is 1200 m3 in area and funded by French Development Agency (AFD) while implemented by Palestine Ministry of Agriculture. The project cost 45 thousand dollars and meant to lessen the water crisis the area suffers from and relieve the farmers from the burden of purchasing water for irrigation purposes, 1.07 ILS for every 1 m3.
The reason behind the stop-work order is unlicensed construction in area classified "C" according to Oslo Accords. The families were given a respite that ends on July 18 as a final date to be done with obtaining a building permit. Same date was set for a meeting of the Planning and Construction Committee to be held in Beit El court to consider the legal status of the structure.
The pond is expected to be a source of irrigation to 60 dunums of land planted with green houses crops.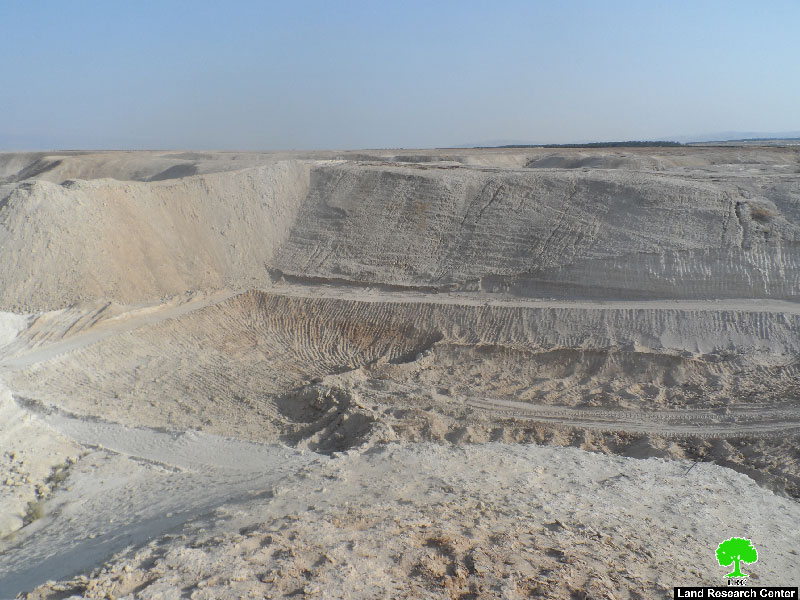 Picture 1: The pond, under construction
Forcing heavy machines to withdraw from the location:
The Israeli occupation forced the excavation contractor to immediately withdraw the heavy equipment digging the pool from the area. The forces threatened that the machines would be confiscated if they did not go out and forced the contractor to pay a sum of money in case his machines remained at the site.
Table: The affected farmers and land:
Affected citizen

Place of residence

Family

Land according to crops (dunums)**

Emad Naseibeh

Jerusalem

6

21

Khairi Naseibeh

Jerusalem

8

8

Mustafa al-Dujani

Jerusalem

5

15

Adli al-Dujani

Jerusalem

4

10

Fa'iq al-Dujani

Jerusalem

7

6

Total

30

60
*source: Field Observations – Monitoring Israeli Human Rights Violations Team – LRC
**a dunum is the equivalent of 1,000 square meters
Within the same context, the Regional Planning and Construction Committee issued two stop-work orders on other rainwater harvesting ponds in the village of al- Jiftlik, north of Jericho. The first order was issued on June 01 while the second on June 19. The ponds serve to irrigate over 230 dunums of land planted with palm trees, vegetables, and field crops.
Al 'Auja is located 12 km to the north east of Jericho city, adjacent to the Jordan River. It is edged by the eastern regional road that leads far north to Bisan. Its total area is 106399 dunums, 1186 of which is built up area of the village. (Source: Geographic Information System- Land Research Center)
The Israeli Occupation captured 4717 dunums of Al 'Auja for colonial expansion purposes besides having several military bases there that devoured 1600 dunums. Road no. 90 which is 8180 meters long took away more than 818 dunums of Al 'Auja.
5 colonies are founded on Al 'Auja land and they devoured 2299 dunums of the village lands. The colonies are: Gilgal, Netiv Hagedud, Niran, Yitav and Nihal Tsoori. (Source: Al 'Auja village council)
Prepared by
The Land Research Center
LRC