Serving families stop-work orders in Khirbet ar-Ras al Ahmar – Tubas Governorate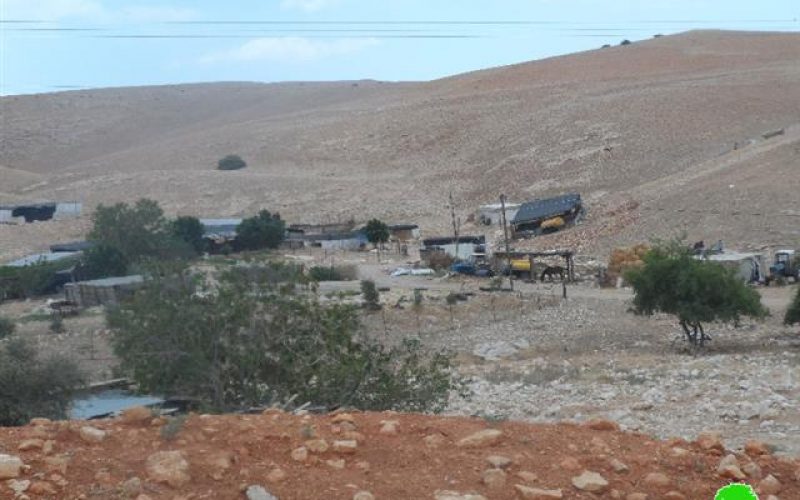 Violation: Issuing a number of stop-work (construction) orders on agricultural structures
Location: Khirbet ar-Ras al Ahmar, Tubas governorate
Date: 05/06/2014
Perpetrators: The so-called Israeli Inspection Subcommittee
Victims: Two families from ar-Ras al Ahmar
Details:
On June 05, the Subcommittee of Inspection of the Israeli Civil Administration served two Bedouin families from Khirbet ar -Ras al Ahmar stop-work orders on their residential and agricultural structures under the pretext of unlicensed construction in area "C" according to Oslo Accords.
It should be marked that the Israeli occupation gave the families a respite that ends on June 22 as a final date to obtain building permits. Same date was set for a meeting of the Planning and Construction Committee to be held in Beit El court to consider the legal status of the threatened structures. See Photo 1 & Photo 2
The table gives information about the targeted structures:
Affected citizen

Family members

Children

Sheep

Orders

Structures

Houses

Area (m2)

Shacks

Area (m2)

Lutfi Bani Oudeh

10

4

300

160412

2

45

2

60+45

Amin Bani Oudeh

8

6

250

160411

1

45

2

90+ 45

18

10

550

3

90

4

240
*Source: Field Research- Monitoring Israeli Violations Team- Land Research Centre (LRC).
Khirbet ar- Ras al Ahmar, like other Bedouin communities, has been a target for the Israeli occupation that seeks to take over the Jordan Valley and Judaize it, just like what it is doing in Jerusalem, after kicking the indigenous inhabitants out. Ar-Ras al Ahmar, located 8 kilometers southeast of Tubas in the north part of the Jordan Valley, is area C according to Oslo Accords (Israel maintains full security and administrative control). It has a total area of 36 dunums and is inhabited by 137 people (17 Bedouin families) whose agricultural and residential structures are under constant threat of demolition. Any citizen who wants to add a simple structure or supplement to his residence is guaranteed of being targeted by the Israeli occupation army with either demolition order or eviction under the pretext of being in an Israeli-declared closed military zone. The area was and still is considered a home for the Bedouin families that have been inhabiting it for tenths of years and leading a normal life before the 1967 Israeli occupation that wants to deny them that and to kick them out.
Prepared by:
The Land Research Center