The Israeli Occupation Demolishes a Farm in Ras Atiya village – Qalqiliya Governorate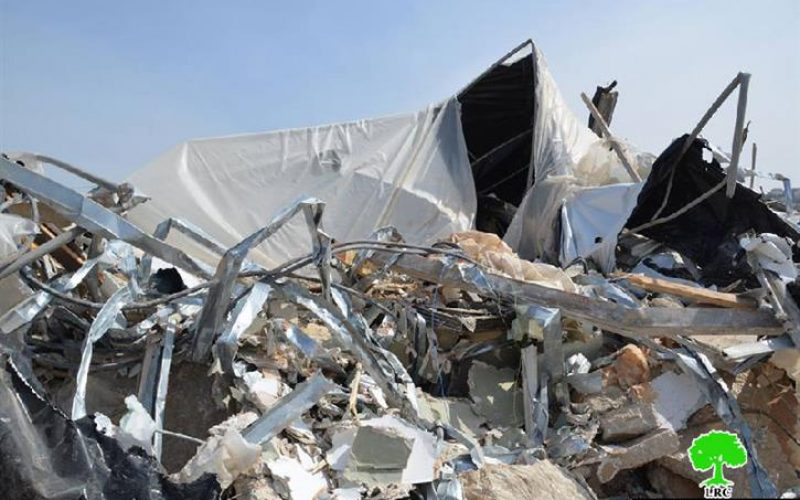 Violation: Ravaging a 9-dunum piece of land and leveling a farm
Location: Ras 'Atiya- Qalqiliya
Date: 29/05/2014
Perpetrators: The Israeli occupation army
Victims: Abdullah Nofal
Details:
On Thursday, May 29, large forces of the Israeli army driving a bulldozer raided Ras 'Atiya, east of Qaliqilia governorate, where they embarked on demolishing an agricultural shed, 90 m2 in area and used for storing agricultural tools and ravaging 9 dunums of land planted with various trees.
The farm belongs to the family of Abdullah Nofal (43) from Qalqiliya. The Israeli occupation justified the assault by claiming that the farm is founded on "state property".
It is worth mentioning that the affected citizen received an eviction order on February 02, 2014 under the claim that Israel owns the land. The land is in an area named' Khillet Bouslan' near Alfei Menashe; only 200 meters away from the security border of the colony.
Pictures 1-4: Scenes of the damage inflicted on the property of Abdullah Nofal/ Ras 'Atiya
The table gives information about the last demolition operation:
Affected citizen

Family

Area

Nature of damage

Abdullah Nofal

8

9 dunums

Demolition of an agricultural shed (90m2)
Destroying an irrigation network (300 m3)
Destroying 3 water cisterns
Damaging electricity pools+ wires
Destroying agricultural tools
Destroying 70 km of fertilizers
Ravaging 9 dunums planted with 60 olive seedlings and 120 guava saplings
*Source: Field Research- Monitoring Israeli Violations Team- Land Research Centre (LRC).
Ras 'Atiya is witnessing a ferocious attack by the Israeli occupation. During the past 2 years, 60 dunums of the village lands were damaged and 18 farmers were notified of using agricultural lands that are "state property".
Ras 'Atiya is 12 km south of Qalqiliya. The area of its agricultural lands reaches up to 2083 dunums, 1000 of which were confiscated for the sake of expanding nearby "Alfei Menashe".
Ras 'Atiya has a population of 1890 people who mainly depend on agriculture to get a living.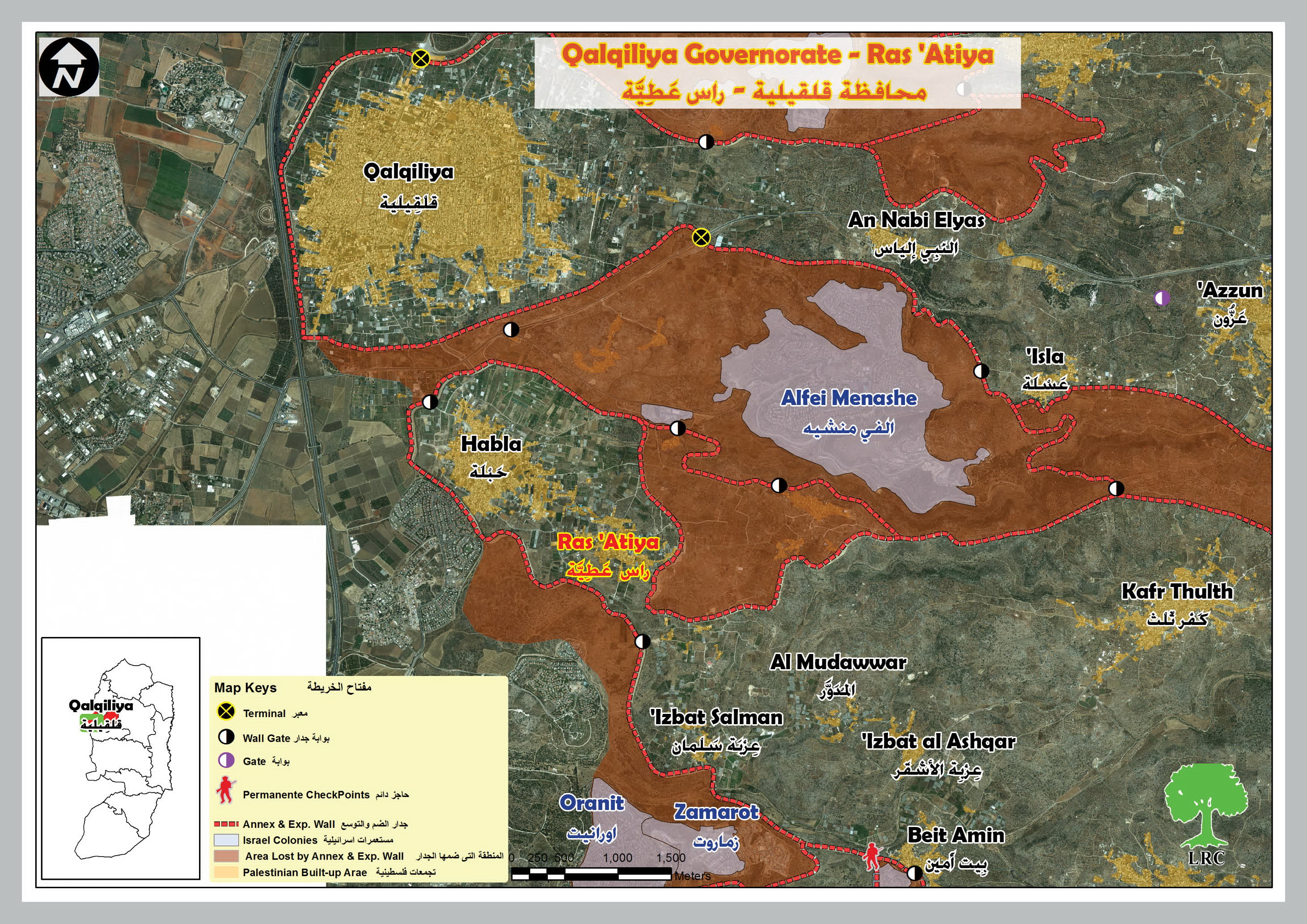 Prepared by
The Land Research Center
LRC