Stop Work Orders on Agricultural and Residential Structures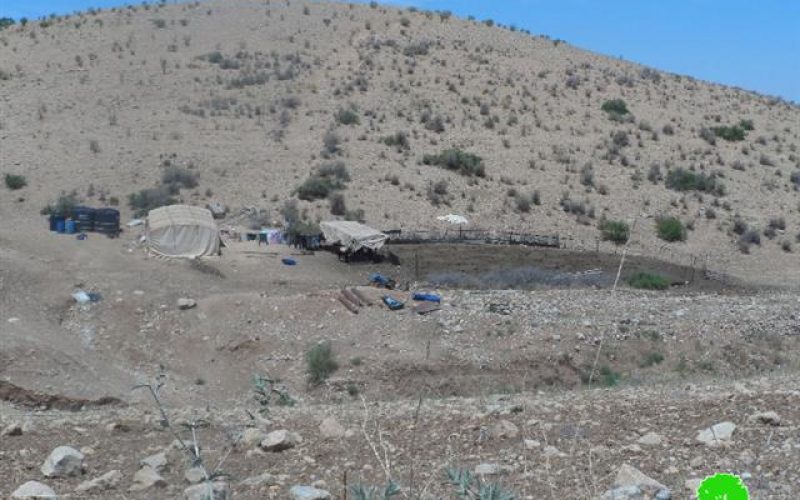 Violation : Issuance of orders to stop work and construction in seven structures
Location: Khirbets of Hamamat al-Malih and al-Maiteh, the Jordan Valley, Tubas governorate
Date: May05, 2014
Perpetrators: The so called planning committee of the Civil Administration
Victims: Seven Bedouin families that consists of 54 members, 20 of whom are kids.
Details:
The planning committee of the Israeli Civil Administration has delivered orders compelling seven Bedouin families residing in Hammamat al-Maleh and al-Maiteh, in the northern part of the Jordan Valley to stop work in their agricultural and residential structuresunder the pretext of unlicensed construction in the classified area "C" according to Oslo Accords.
According to the orders, the residents have been given a respite until the beginning of June 2014 as a final date to complete the construction authorization procedures. The same date has been set for a court session of the planning committee in the so known Beit El court to consider the legitimacy of the notified facilities
According to Mr. Aref Daraghma; chairman of the Al- Malih Bedouin community council to the Land research center LRC observer: "The notified families have been previously notified for the third time during the past year.In addition to that, demolition operations were carried out on their tents and stables for more than three times during the past two years though the citizens applied for building permits, yet the problem is in the occupation itself that keeps procrastinating in issuing licenses to those facilities in a way or another. That comes in line with the occupation confiscating the pastures and water resources in that futile area of Palestine ".
As for Hajj Ali al-Faqeer; one of the harmed citizens , he commented , with grief in his eyes, that the non-stop assaults of the occupation have resulted in the recurrent demolitions of his tents and stables. Despite this, Ali and his family have emphasized that they will keep living on the land inherited from their fathers and grandfathers for there is no other place to go to but to the land they always knew.
Photos 1-2: Targeted Bedouin communities
The following table shows the damage resulted by the last military orders in al- Mahleh area
victim

Family

Minors

Sheep

No. of military order

Threatened structures

No. of structures

Total areasqm

No. of stables

Total areasqm

No. of barracks

Total areasq,

Ali al- Faqeer

8

3

250

2

120

1

120

1

90

Salamah al-Faqeer

5

2

340

1

45

2

200+ 180

2

90+60

Khaled al- Faqeer

15

7

200

2

45

1

140

1

60

Abed Ali Najadeh

8

3

400

N/A

1

60

3

200+ 180+ 180

2

90 +60

Salem Ka'abna

9

4

210

N/A

1

60

2

160+120

1

60

A'aed Ka'abna

8

3

240

N/A

1

60

2

180 +120

1

60

Meryam al-Faqeer

1

0

160

N/A

1

45

1

90

1

60

Total

54

20

1800

9

435

12

1870

9

630
*Source: Field Research- Monitoring Israeli Violations Team- Land Research Centre (LRC).
It should be mentioned that the northern part of the Jordan Valley is being targeted every now and then by the Israeli occupation. Tents and sheep stables have also been targeted either by demolition or even by stop work orders under the pretext of "unlicensed" construction . It should also be mentioned that there are 13 Bedouin residential communities in the area of Wad al- Maleh which are al-Maiteh, Hammamat al- Maleh, al- Burj, Ein al-Hilweh, Umm Jamal, al- Hemmeh, Umm al- Kuhoof, al- Farisiyya, Hameer, Makhoul , Samra, al- Hadida, al- Ras al- Ahmar and Yarza.
The occupation went further than demolishing houses and stables to confiscate agricultural lands, turning them into military training camps. Taking over water resources has also become a target for the Israeli occupation and its Judaizing plans where citizens of the northern Valley are becoming homeless and deprived from the most basic of needs.
Prepared by:
The Applied Research Institute – Jerusalem