Land Takeover in Salfit
Israeli Occupation Forces Extends the Seizure of 381 Dunums of the Lands of the Villages of Siniria and Al Zawiya in Qalqilia Governorate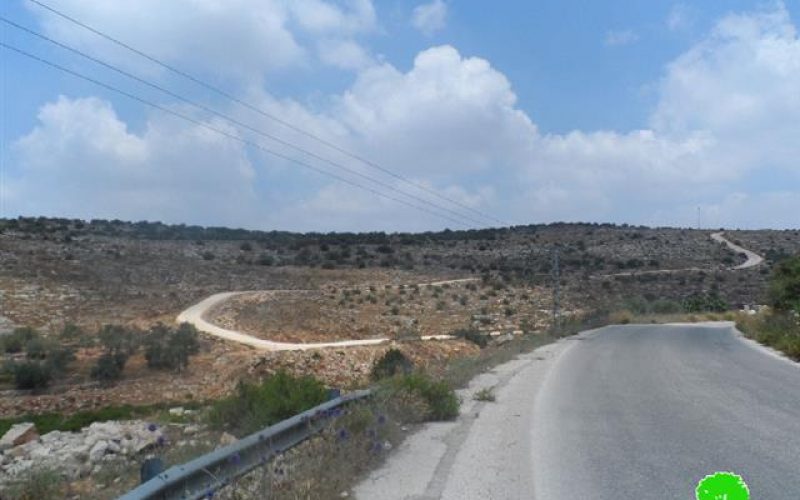 Violation: Occupation forces extend the seizure of a piece of land
Location: Natural block number 3 of al-Matwi valley lands/ Salfit governorate
Date: 14/05/2014
Perpetrators: The Israeli occupation army
Victims: Farmers of Salfit
Detail:
On May 14, 2014, the Israeli Military Coalition handed the Palestinian party an order entitled "Continuation of Land Seizure" and called for the continuation of "placing the Army's Hands" on a piece of land in the West Bank city of Salfit and called for the adjustment of land use. According to the order and attached map, the piece of land is located north of Salfit, within the natural block no. 3 in the area known as Wadi al- Matwi (or al-Matwi valley). It is 805 m2 in area and was stolen by the Israeli occupation according to the order number (8/21) issued in 2008. The land was initially confiscated for the purpose of installing water pipelines towards the purification plant in the colony of Ariel, according to the Israeli occupation's claims. The plant extends on an area of 200 m2, west of the expropriated land.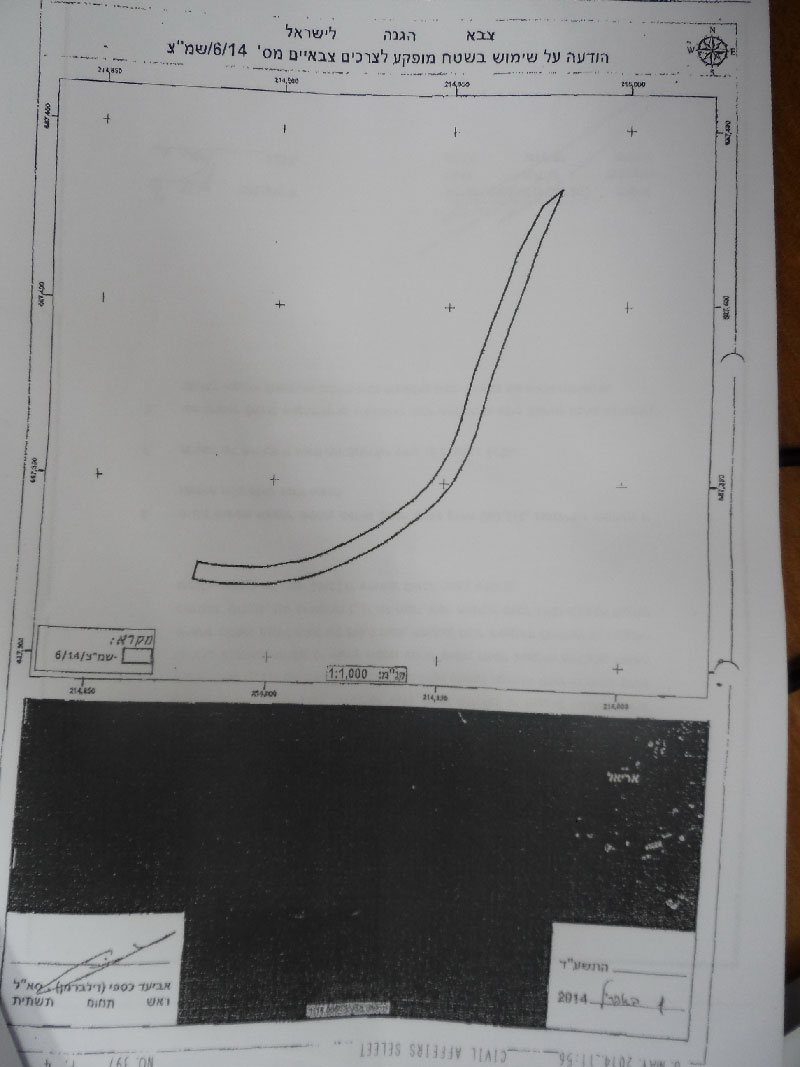 Pictures 1-3: The military order and attached map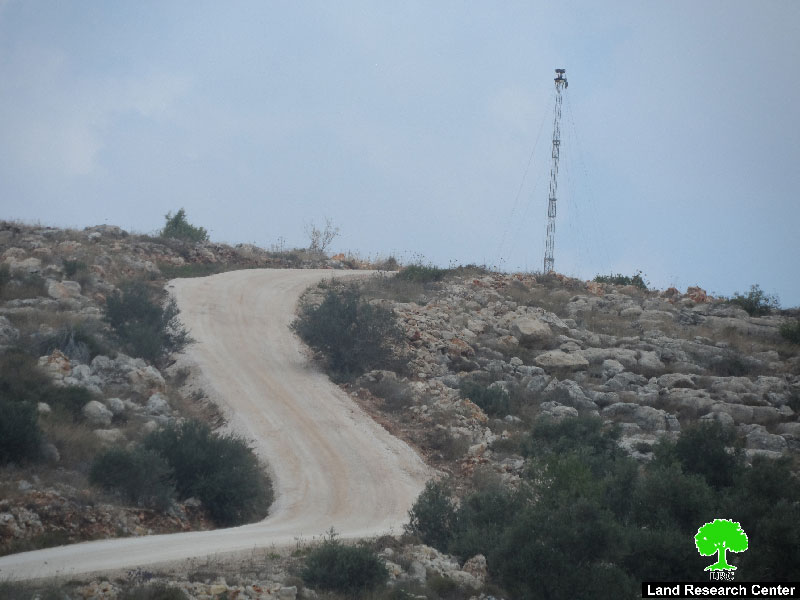 Pictures 4: The road leading to the purification plant
Today and after six years of land grab, the Israeli occupation Army High Commander in the West Bank has issued an order to renew the confiscation of land and change its usage so it is used for military purposes- though according to the order, the land was initially confiscated for the sake of opening a military road.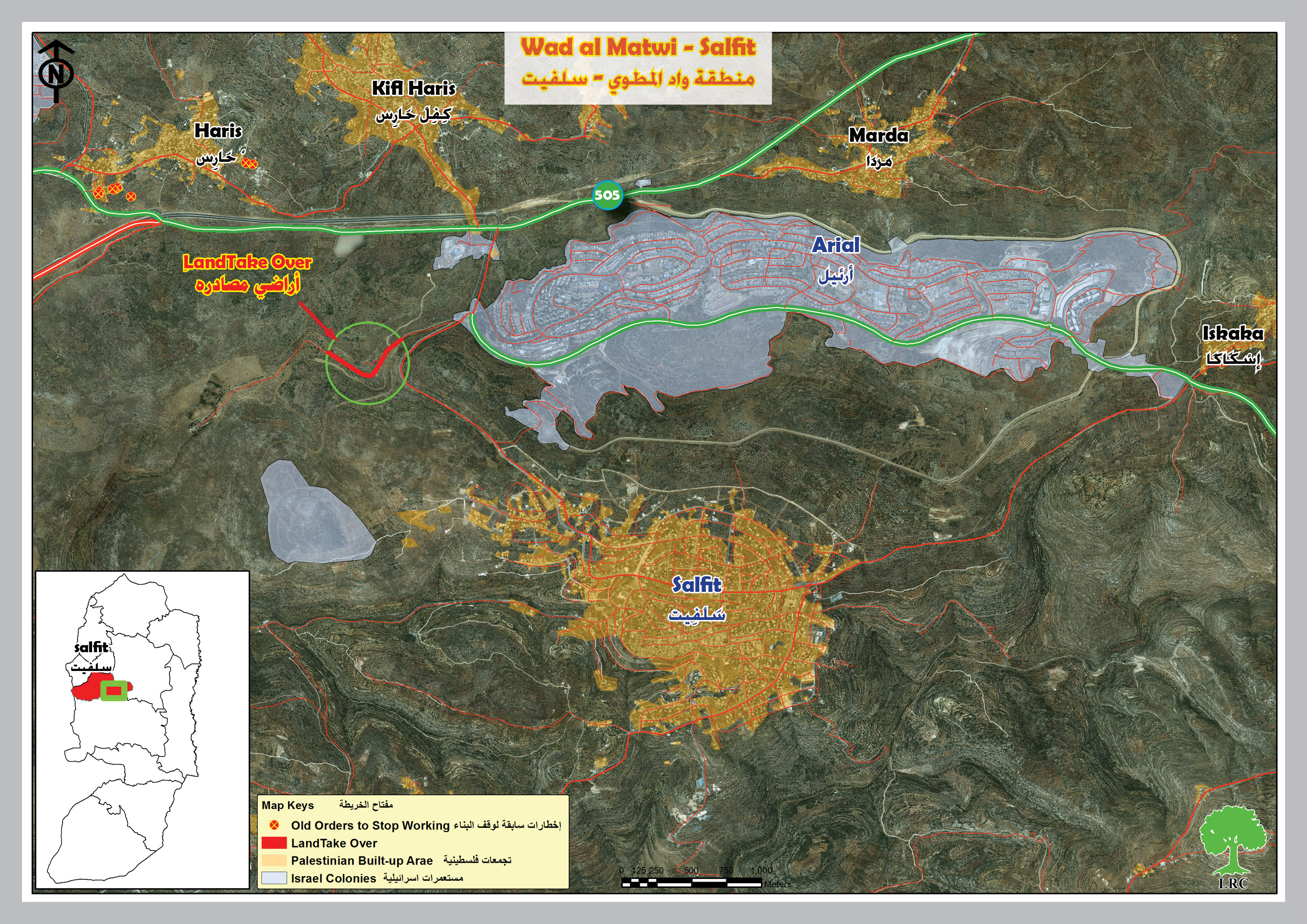 Through field research, it was found that the Israeli occupation did open a military road connecting Ariel's northern entrance with the purification plant and the road passes through the targeted area.
The road will lead to grave ramifications not only on the farmers of Salfit but also on the agricultural sector in the city at large. Here are some in details:
The land of Al-Matwi and northern Salfit is considered among the most futile. Since the colonial road will pass through these areas, damage to the agricultural land would ensue as the Israeli occupation would use the road as a pretext to deny people access to their land and harass them for 'security reasons'.
The road, according to the Israeli conception, means seizing more Palestinian land to make way for future expansion plans for the colonies, especially that according to eyewitness and field observations, the road will soon be a linking point between Ariel and Burqan colonies.
Prepared by
The Land Research Center
LRC