Killing of 15 sheep in Khirbet al Hadidiyya In Tubas Governorate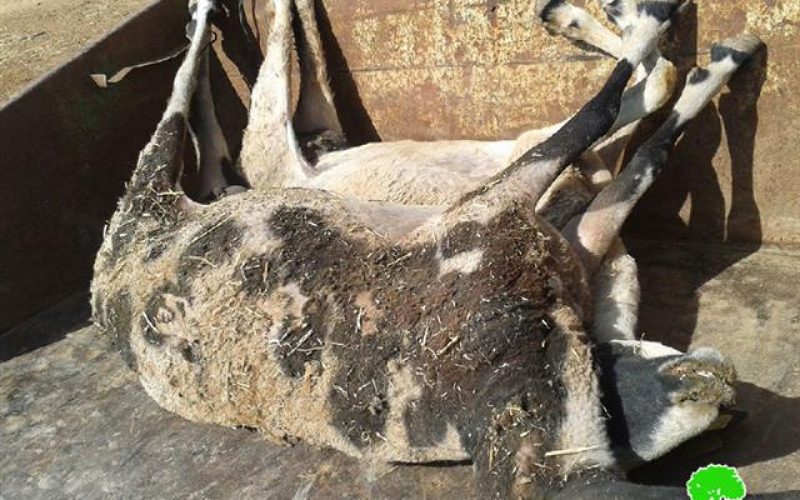 Violation: Spraying chemicals around a Bedouin community leading to the death of a number of sheep
Date: 17/05/2014
Location: Khirbet al Hadidiyya- Wad al Malih- Tubas governorate
Perpetrators: Colonists of Roi
Victims: Abdul Rahim Basharat
Details:
Farmer Abdul Rahim Basharat (67) from Khirbet al Hadidiyya- east of Tubas, lost his source of income after colonists of Roi sprayed chemical leftover of pesticides near his residence leading to the death of 15 sheep the farmer owned. Basharat is the caretaker for his 14-member family though he suffers from visual and hearing impairment.
Bashart's story is not unique in that many Palestinians share the same bitter reality of life under occupation. Residents of the Jordan Valley in particular are subject to Israeli harassments that exclude none. All the measures taken against people, water, land and even cattle are meant to drive Palestinians out and carry on with colonial expansion plans.
Pictures 1-2: The death of livestock because of pesticides/ Wad al Malih
On the other hand, hundreds of Israeli police officers and Israeli forces of colony guards break into rangeland areas and pastures where they loot cattle, especially cows, and claim the lands are closed military zones or state property.
It should be marked that livestock of the Jordan Valley constitute 70% of red meat sources in the West Bank, not to mention they are a source of national income too, sustaining many families, mainly Bedouins. This is why livestock are targeted by the Israeli occupation whose measures aim at threatening Palestinians' very existence by destroying their sources of income, demolishing their houses, and expropriating their lands among other practices that show Israel's apartheid system in action.
Roi colony was built in 1978 on Tubas land and is considered one of the biggest agricultural colonies in the Jordan Valley. It is worth mentioning that colonists of Roi -as other colonists in agricultural colonies in the Jordan Valley- enjoy many privileges including tax exemption and abundance of services and resources while Palestinian farmers are deprived from the most basic of services in the land they inherited from their ancestors.
Prepared by
The Land Research Center
LRC