Israeli Settlers torched crops in Yatta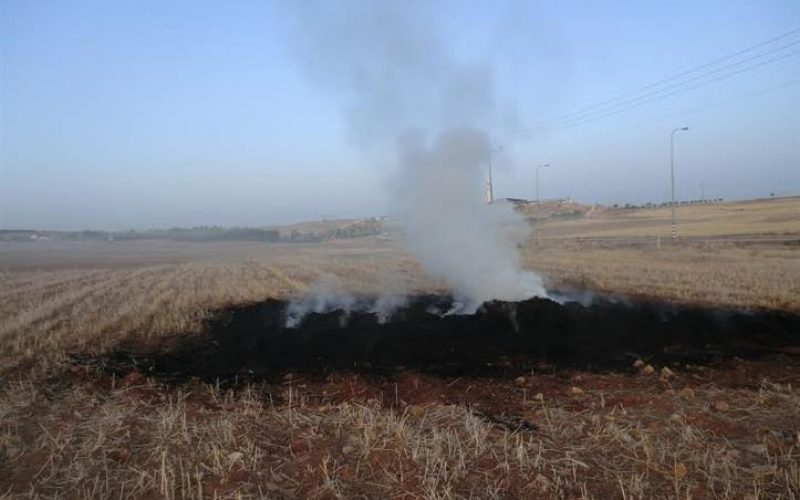 Violation: Setting fire to wheat crop
Date: 22/05/2014
Location: Khirbet Qawawis- Yatta- Hebron governorate
Perpetrators: Colonists of Susiya
Victims: Khaled an Najjar
Details:
Colonists of colonies founded on Yatta lands committed a heinous crime by setting fire to wheat crop belonging to Khaled an Najjar, in Khirbet Qawawis, north of Yatta. An Najjar, interviewed by LRC, stated that he and his family finished harvesting on May 21 after two weeks of hard work. He planned to thresh the crop the following day (on May 22) but received a phone call from one of the Palestinian workers heading to his workplace within the Green Line informing An Najjar that he passed through his land and saw the crop on fire.
An Najjad pointed out that the same worker called the Israeli police that showed up at the place with a fire truck to extinguish the fire that totally destroyed the crop. Upon arrival, an Najjar smelled gasoline, the substance used by colonists to carry out their attack.
Pictures 1-4: The fire eating up the crop and causing damage (Source: Operation Dove)
The crop was harvested from 18 dunums planted with wheat. The Israeli police viewed the site and measured the land, then asked an Najjad to file a complaint about the attack at Kiryat Arba'.
It is worth mentioning that An Najjar's land is located east of the bypass road no. 316 and is only 1 km away from Mizpe Yare and half kilometer away from Susiya.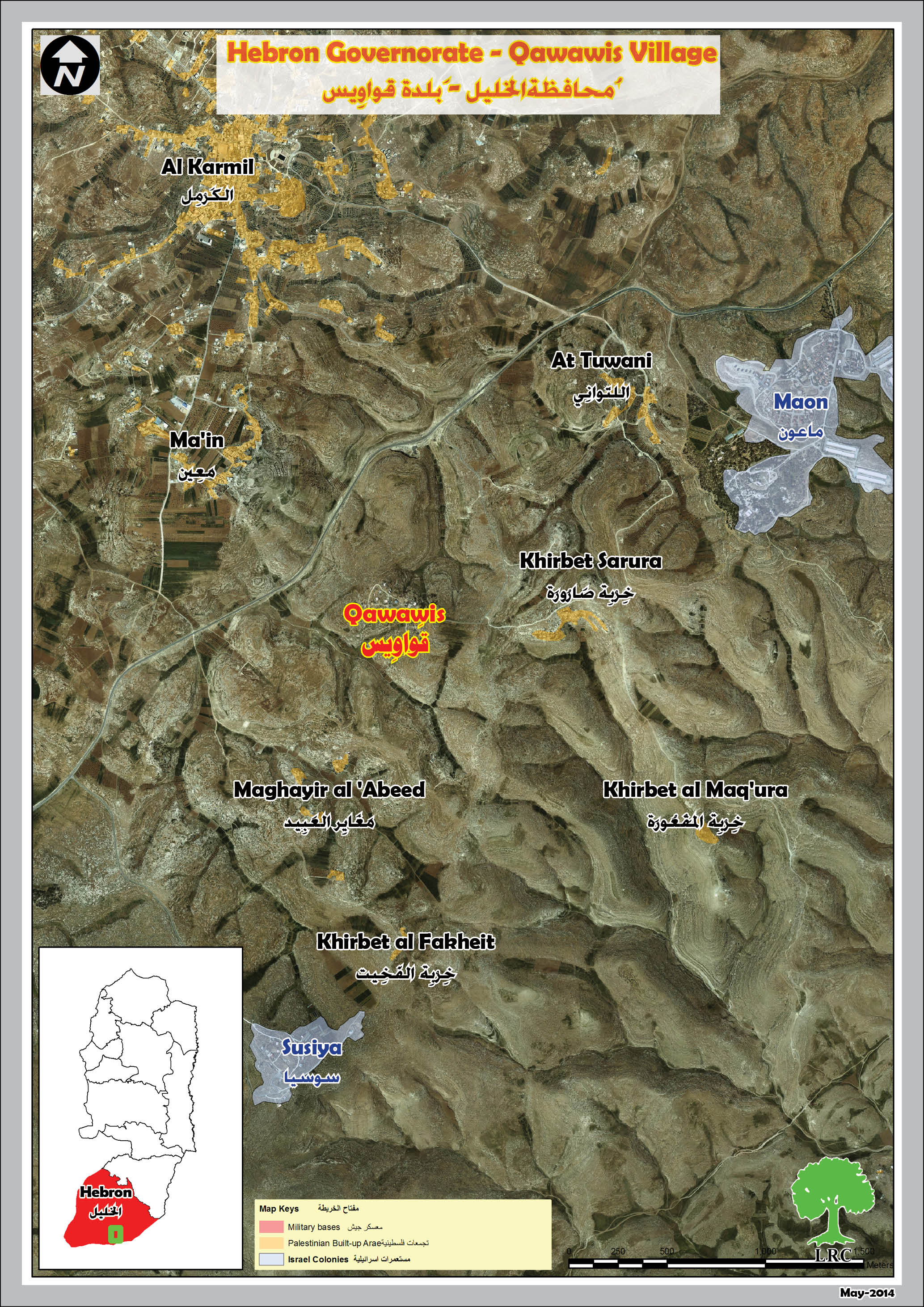 Khirbet Qawawis- Yatta:
Khirbet Qawawis is part of al- Tawani and is located 8 kms to the southeast of Yatta. It is surrounded by al Karmel village (north), Ma'in (west), Khirbet Sarora (east) and Khallet ad Dabi'(south).
It has a population of 140 people (according to 2014 population projections). Al Tawani's total area is 12026 dunums, 48 of which are built-up area. The Israeli occupation confiscated 1155 of the village lands for the benefit of:
Israeli colonies that devoured 648 dunums of land, namely:
a. Karmel which was built in 1981 and confiscated 197 dunums. It is inhabited by 821 colonists.
b. Maon, built in 1980 and confiscated 669 dunums. 327 colonists live in it.
Bypass roads number (356 and 317) that took over 507 dunums
Prepared by:
The Land Research Center