Shepherds denied access to pastures by the occupation in Yatta town –Hebron governorate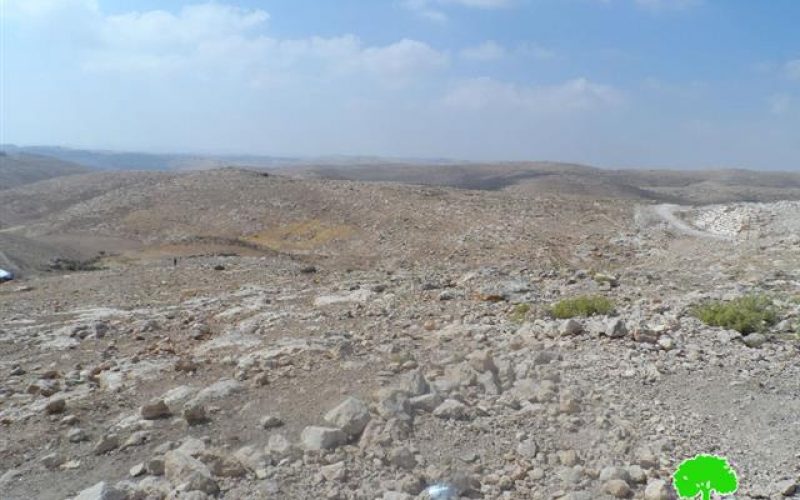 Violation: the colonist and the occupation soldiers denied shepherds access to pastures
Date: 19/04/2014
Location: Yatta town –Hebron governorate
Perpetrators: Karmiel colonists and the occupation army
Victims: three citizen of al-Salamin family
Details:
Karmiel colonists and the occupation soldiers stopped shepherds from grazing their herds on their own lands in Khirbet Um al-Khair, east of Yatta town.
Bilal al-Hathalin(28years) to the LRC observer stated that: "at9:30 in the morning of Saturday 19/04/2014, shepherds namely(Khlail al-Hathalin, Husam al-Hathalin and Yasir al-Hathalin) led their herds to the southern area of the Khirbet ,through a mountain belonging to al-Hathalin family which is a subject of confiscation , but a patrol of the occupation denied them access to the pastures.
al-Halthalin mentioned that Karmiel colonists continued what the soldiers have started in the area of Safeh al-Jabal where they blocked the shepherds way to the fields by staying in a tent set up on the top of the mountain and celebrated some religious rituals until the afternoon of Saturday. As a result, shepherds had to return back to their barns due to the occupation hindrance. Noteworthy, there are no alternative pastures in the area which as a matter of fact is witnessing a dry season.
Bilal said that: "Israelis came to the place and surveyed the mountain where members of al-Hathalin family stood for surveyors and proofed that the lands belong to them and that it is registered in the Jordanian Department of Land Treasury. Given the aforementioned information, the occupation authorities had no right to work in the lands since the family had not received any military orders of confiscation andor notification on the place.
Al- Hathalin mentioned that "next day, on Sunday, shepherds led their herds and headed the pastures at time of dawn to make sure they will not be caught or hindered by either the colonists or the occupation soldiers. He also showed concern that they might be stopped on the way back in case the occupation figured out that they sneaked in there.
It should be marked that the colonists and the occupation soldiers have been usually hindering and stopping shepherds to go through the mountain and by declaring it inaccessible.
For further information, please read through the LRC article on "Karmiel colonists have their eyes on a mountain in Yatta town" http://poica.org/details.php?Article=5426
Prepared by:
The Land Research Center