Colonists of Adi Ad destroy 17 olive trees in Al Mughayyir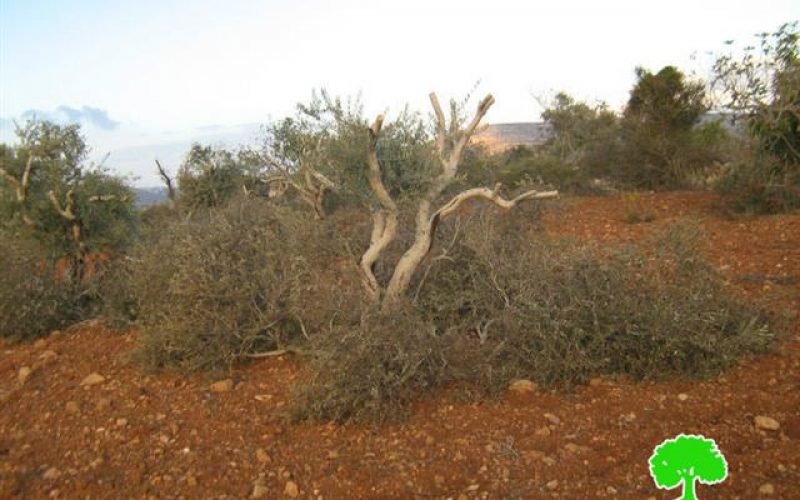 Violation: Cutting down olive trees
Date: 21/04/2014
Location: Al Mughayyir village-Ramallah governorate
Perpetrators: Colonists of Adi Ad
Victims: A farmer named Rafeed al Na'san
Details:
On April 21, 2014, Al Mughayyir witnessed yet another crime against trees when a group of colonists from nearby Adi Ad embarked on sowing and cutting down 17 olive trees, rendering them partially damaged. The trees were planted 20 years ago in a place adjacent to the West Bank colony of Shilo.
It should be marked that the way colonists sowed the trees revealed the mentality of extremism they have and their focus on the olive tree as they consider it a symbol of the Palestinian farmer's steadfastness and rooted existence.
The damaged trees belong to Rafeed al Na'san (57) from Al Mughayyir. Al Na'san depends on agriculture to make a living for his 6-member family.
| | | | | |
| --- | --- | --- | --- | --- |
| Affected citizen | Family | Children | Land (dunums) | Trees |
| Rafeed al Na'san | 6 | 1 | 2.5 | 17 |
*Source: Field Research- Monitoring Israeli Violations Team- Land Research Centre (LRC).
Pictures of the destroyed trees
The head of the Al Mughayyir village council, Mr. Faraj al Na'san, explained to an LRC observer that: "The olive trees are under constant attack. At the end of 2012, a number of olive trees were torched here and last year, the harvest was stolen. It should be mentioned that Rafeed al Na'san was targeted by colonists more than once. 41of his trees were destroyed in 2012. And despite all the complaints filed to the Israeli police, colonists' vandalism does not subside. On the contrary, it has become a routine.
The Palestinian countryside has been witnessing an escalation of attacks since the onset of 2014; no less than 2000 olive trees and seedlings got destroyed by colonists according to OCHA. The number serves as an alarming indicator of the growing discrimination and extremism of colonists.
Al Mughayyir is located 30 km to the north east of Ramallah; it is inhabited by around 2900 people according to the PBS statistics conducted in 2010.
Most of the village agricultural fields are located in its eastern parts; its total area is 33055 dunums, 501 of which are built-up area.
The Israeli occupation confiscated 37 dunums of Al Mughayyir lands for bypass #458.
According to Oslo Accords, about 95% of the village is under Area C while only 5% is under Area B.
Area B: 1,695 dunums
Area C: 31,360 dunums
Al Mughayyir is targeted by radical colonists under the protection and support of the Israeli army. To know more about the village and the assaults, check out the reports prepared by Monitoring Israeli Violations Team in LRC.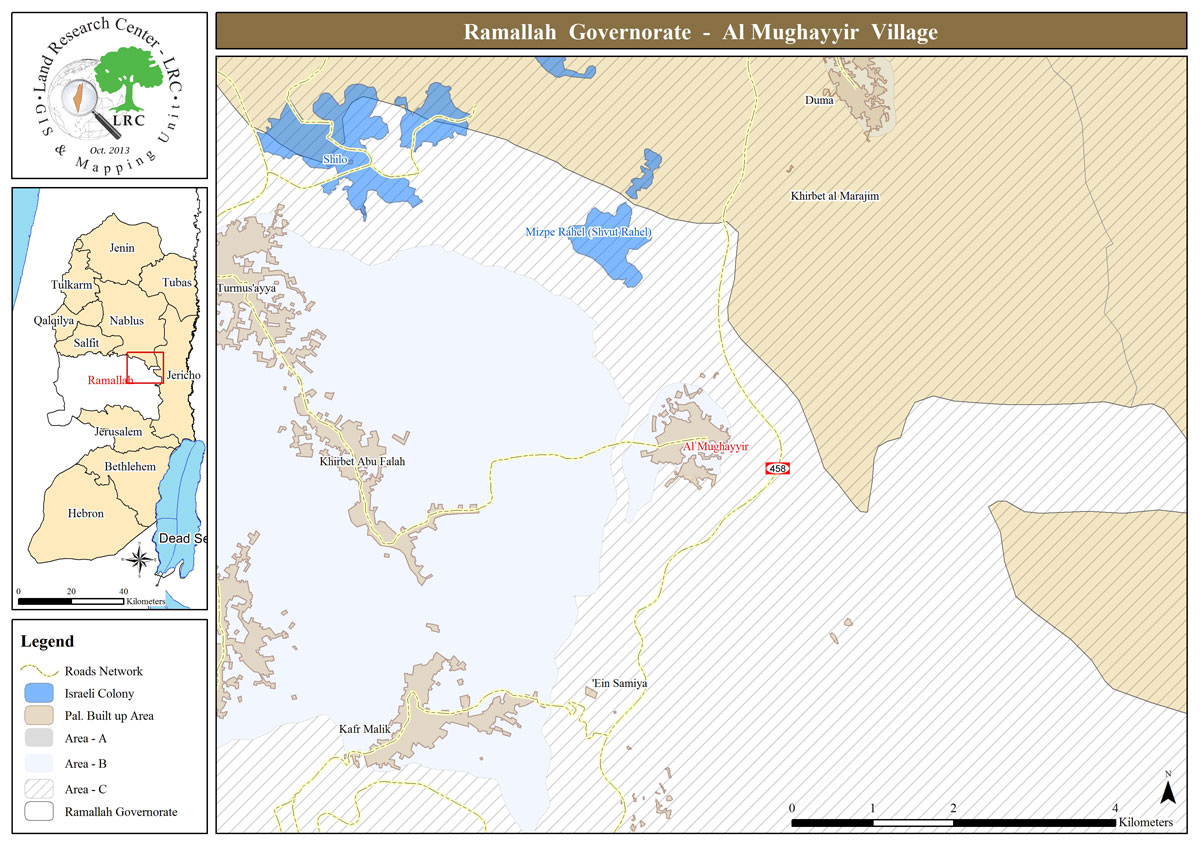 [i] Source: Geographic Information System- Monitoring Israeli Violations Team- Land Research Center
Prepared by
The Land Research Center
LRC