A school raided in Massafer Yatta – Hebron Governorate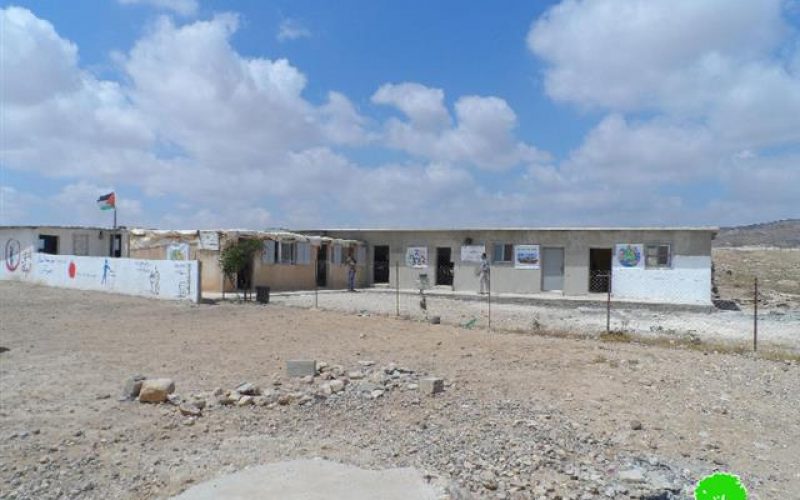 Violation: Massafer Yatta School raided and taken photos of by the occupation forces
Date: Apirl ,28, 2014
Location: Massafir Yatta- Hebron governorate
Perpetrators: Civil administration and the occupation army
Victims: the students of the school
Details:
The civil administration accompanied by a force of the occupation army raided al-Massafer mixed-gender primary school, located in Khirbet al-Fakhit, east of Yatta, and took photos of it before they left the place. Teacher Jihad Rashid stated that: a patrol of the occupation accompanied with a Toyota vehicle of the civil administration raided the school on April28, 2014 and pulled off at entrance taking photos of it unjustifiably.
Rashid showed concern that the authorities of the occupation might target the school after being served a stop work order in 2012.
Photos 1+2: the occupation authorities while raiding the school
Residents of al-Massafer established the school in 2009 under the name of "al-Massafer mixed gender primary school" starting as several tents to seat the students in. Noteworthy, the school is under the authority of the Ministry of Education-South Hebron.
The occupation served a stop work order for the school after the residents replaced the tents with classrooms made of concrete blocks and metal slabs because of the bad conditions the students went through in the tents.
Photos 3+4: a scene of the school in 2009
The residents, then, sought the attorney Shlomo Laiker to object the stop order work, and they obtained an injunction to stop the demolition of the school.
As for the school, it is composed of six classrooms and has students from the first to the eighth grade, in addition to the teacher's room, the principle office, kitchen, and restrooms all covered with metal slabs.
Photos 5-6: a scene of the school in 2014
Around sixty students from Khirbet al-Fakhit study at al- Massafer School, located on its lands alongside with students coming from the nearby communities namely (al-Tabban, al-Majaz, Safi al-Fouka, Safi al-Tihta, Maghayer al-Abid, and al-Halawa).
Considering the long distance, a vehicle gifted by the UNICEF drive the students from and to the school and the nearby communities. Frequently, the occupation forces hinder the vehicle while driving through the usual route. The car was detained for a period of a week in the past year.
Prepared by
The Land Research Center
LRC