A carwash demolished in Haris village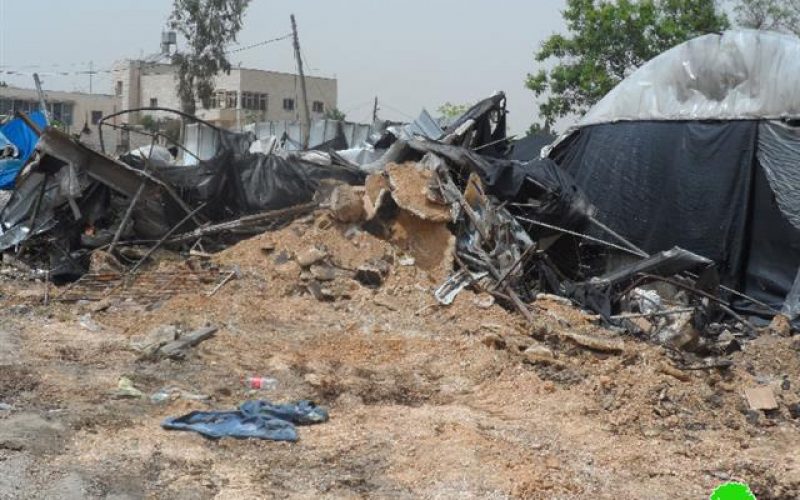 Violation: a structure demolition
Date: April 1st ,2014
Location: Haris- Salfit governorate
Perpetrators: the army of the Israeli occupation
Victims: family of Fadi Qlib
Details:
In the early hours of April 1st,2014, a massive force of the occupation army accompanied by a military bulldozer raided the western entrance of the Haris village. During the raid, the forces demolished a carwash that is located nearby the bypass road no.505 aligning with the village's entrance.
It should be marked that the carwash was re-built four months before the last demolition . Noteworthy, the structure was served a demolition order by the beginning of September. The recent demolition is the third inflected on the same structure within a period of a year. Cement bricks and metal slabs are the material by which the 60m2 carwash was built. Ahamd Qllib(36); the owner of carwash, supports a 4 member family in Haris village.
Photo of the rubbles
It should also be mentioned that the village of Haris was served more than 34 stop work orders on different structures and industrial workshops. Nine structure and residences were leveled. The usual pretext has been coming under unlicensed constructions within area classified "C" according to Oslo Accords.
About Haris:
Haris is located 6 km to the northwest of Salfit. It is surrounded by Ariel colony (north), Farkha village (southwest), 'Ammuriya (southeast) and Khirbet Qais (south).
Its total area is 8445 dunums including 320 dunums of built up area inhabited by 4012 (PCBS, population projections- 2014).
Haris is a living evidence on the occupation brutality. The occupation has opened the bypass road no.505 that is of 4km in length on the agricultural lands of the village. The road links the Occupied West Bank and the Green Line.
Prepared by
The Land Research Center
LRC