Roi colonists ravage 100 agricultural dunums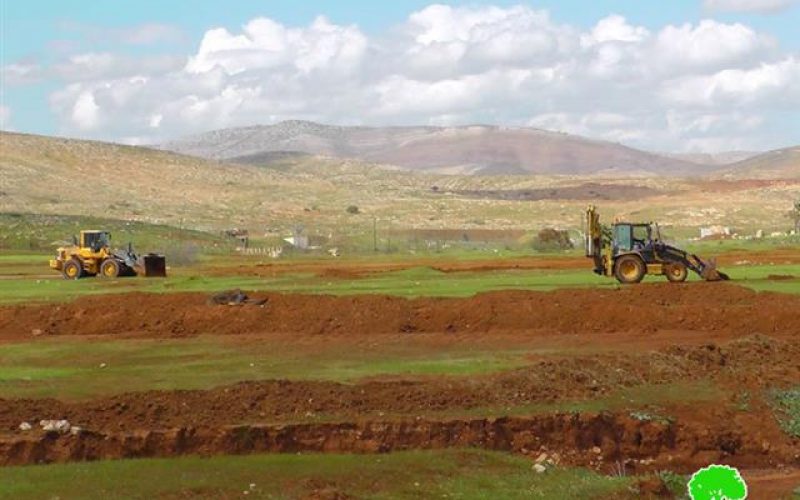 Violation: Shoveling 100 dunums of agricultural lands
Location: Khirbet Makhoul and Khirbet Samra in the Jordan Valley
Date: 10/03/2014
Victims: A number of agricultural families
Perpetrators: Colonists of Roi
Details:
The northern part of the Jordan Valley witnessed a ferocious attack by colonists of Roi, south east of Tubas. At early morning on Monday, March 10th, 2014, a group of colonists under the protection of the Israeli army took on ravaging no less than 100 dunums of agricultural lands in Makhoul and Samra at the heart of the northern side of the Jordan Valley, 18km away from Tubas. The ravaging operation is in preparation of cultivating and using the land by the colonists.
The ravaged area is less than 3km away from Roi colony which was originally founded on lands its owners were banned from using for more than 10 years under the pretext of being in a closed military zone according to the Israeli occupation.
According to Al Maleh village council mayor, Mr. Aref Daraghmeh: " For over than 10 years, the Israeli occupation forces have prohibited farmers from Al Maleh and Tubas from taking care of their agricultural lands in Samra and Makhoul. The lands were used to be planted with cereals and vegetables and were a main source of income to many. However, the Israeli occupation prevented people from using their lands on the pretext that theirs are in a closed military zone, only to be surprised at knowing that colonists prepared the lands for planting and then annexing to Roi. "
Mr. Muhammad Al Mallah, a legal consultant in Tubas, confirmed that "what the Israeli occupation did is a grave breach to international laws and conventions since the targeted lands are Palestinian and their owners have all the documentations that prove their possession. But the Israeli occupation -as usual -used inhuman methods to steal lands by declaring them closed military zones. The occupation allows colonists to steal and use these lands but prohibits Palestinians from even having access to them."
Roi colony was built in 1978 on Tubas land and is considered one of the biggest agricultural colonies in the Jordan Valley. It is worth mentioning that colonists of Roi -as other colonists in agricultural colonies in the Jordan Valley- enjoy many privileges including tax exemption and abundance of services and resources while Palestinian farmers are deprived from the most basic of services in the land they inherited from their ancestors.
Prepared by
The Land Research Center
LRC