Demolition of three structures in Jericho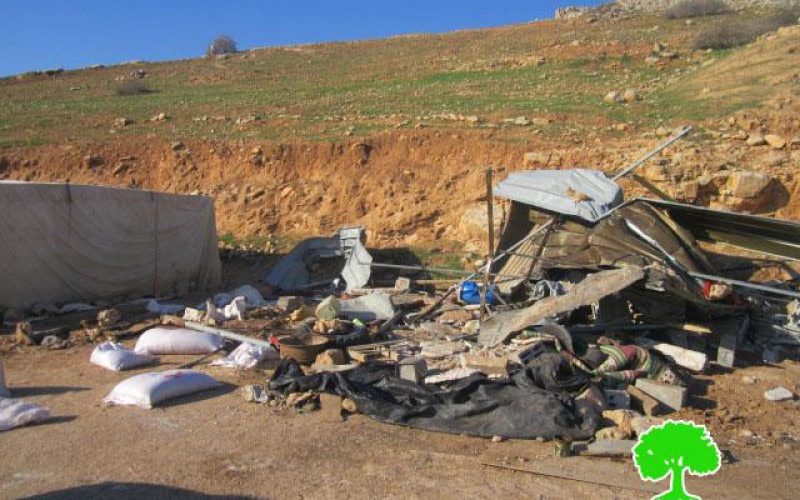 Violation: Destroying a tent and two barns belonging to a Bedouin community
Location: Arab al Jahalin- Jericho governorate
Date: 25/03/2014
Perpetrators: The Israeli occupation army
Victims: A citizen named Ahmad al Jahalin and his family
Details:
At early hours of Wednesday, March 26, 2014, a large force of the Israeli army broke into the Bedouin community of al Jahalin, northeast of Jericho, and set a perimeter around it while the military bulldozers embarked on leveling structures; 2 barns and a living tent without giving the residents any chance to take contents out.
The Israeli occupation justified the demolition claiming the structures had been built without a building permit in an area classified "C" according to Oslo Accords. The structures belong to the family of Ahmad al Jahalin, comprising 11 members. The table gives general information about the destroyed structures:
| | | | | | | | |
| --- | --- | --- | --- | --- | --- | --- | --- |
| Affected citizen | Family | Children | Sheep | Tents | Area (m2) | Barns | Area (m2) |
| Ahmad al Jahalin | 11 | 5 | 90 | 1 | 60 | 2 | 90 |
Source: Field Observations – Monitoring Israeli Human Rights Violations Team- LRC.
Pictures 1-2: Scenes of the demolition operation targeting al Jahalin Bedouin community
Mr. Ahmad al Ka'abna told an LRC observer that: "Al Jahalin have been living in the area for 30 years. During which, they have not been attacked by the Israeli occupation. But recently, the occupation has been escalating its wave of attack in accordance of what seems to be a plan to seize the whole region."
It is worth mentioning that Arab al Jahalin hail from the Negev, south of historical Palestine . They were kicked out of their houses in 1948 and had to flee to other places in the West Bank where they work as shepherds and farmers to make a living. Arab al Jahalin are still targeted by the Israeli occupation though.
The community of Arab al Jahalin, north of Jericho, consists of four Bedouin families (23 members) who lead a primitive life.
Prepared by
The Land Research Center
LRC