Attacks on sheep herds in Yatta town Hebron governorate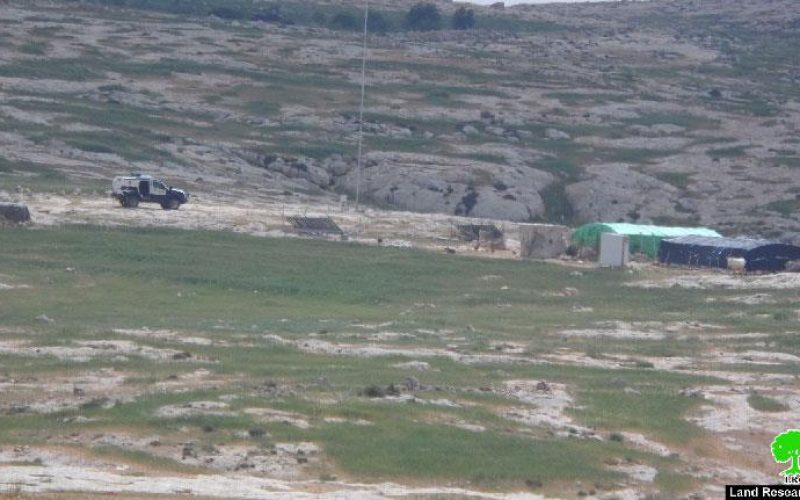 Violation: colonists attacked shepherds east of Yatta and killed two sheep
Date: March16, 2014
Location: Yatta town Hebron governorate
Perpetrators: Mizpe Yare colonists
Victims: Citizen Khalid Najar
Details:
The colonists of Mizpe Yare attacked shepherds in Khirbet Qawawis, south of Yatta town, assaulted them, killed two of their sheep, and sent them out the fields. Citizen Khalid Najar(52years) to LRC observer stated the following:
"At 9:30 in the morning of Apirl16, 2014, I was grazing my sheep with the company of farmer Na'el Abu Aram on the lands of Yatta, east of Mizpe Yare colony. Three colonists showed up and started yelling at us, they then dispersed the herd to a distance of 5km to the instant that we could not follow, fearing that colonists might attack us. That is because a colonist shot me in the abdomen 14 years ago in the presence of an occupation patrol in the area".
Najar also asserted: "After the colonists had left, I went back to check on the herd and found two sheep injured that died after a while."
Najar also pointed out that farmer Na'el Abu Aram submitted a complaint to the occupation Police against the assault that was inflected on them by the colonists.
Najar stated that the colonists accompanied by the occupation Police chased him while grazing his sheep in that area and dispersed the herd towards east of Mizpe Yare. After following his herd, a colonist knocked him to the ground and pointed a gun to his head threatening him of death in case he went back again to graze the sheep in that area.
It should be marked that citizen Najar resides in Khirbet Qawawis, east of Yatta town and works as a farmer and a shepherd. During the LRC field observation, a patrol of the occupation police was seen in the place chasing shepherds and keeping them away from the road that leads to Mizpe Yare colony.
Prepared by
The Land Research Center
LRC