The occupation demolishes a house and assassins a political activist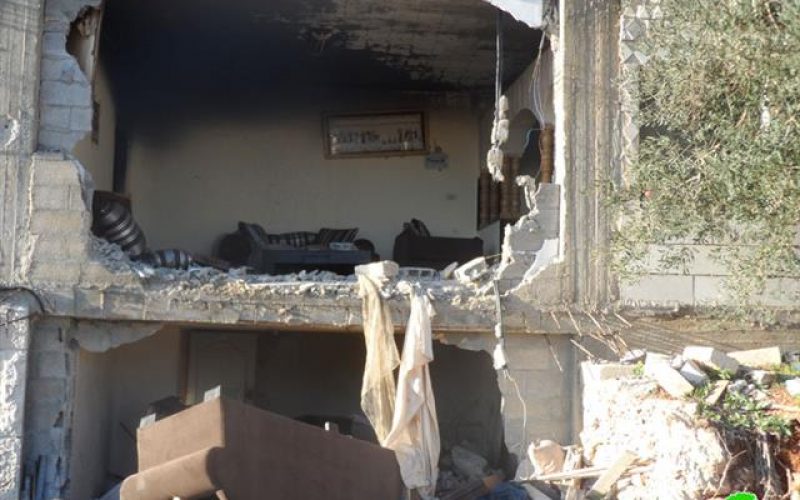 Violation: an activist assassinated and a house demolished in Beir Ziet
Date:27/02/2014
Location: Beir Ziet/ Ramallah governorate
Victims: the house of Mutaz Abu Wash-ha
Details:
On 27/02/2014, a massive force of the Israeli occupation military demolished a house in al-Amir neighborhood, east of Beir Ziet in addition to assassinating a Palestinian hiding in the previously mentioned house.
It was indicated that the occupation damaged several houses in the nearby and traumatized people in a non-human way that contradicts with all international conventions of Human rights and the Geneva Convention, which called on protecting civilians at time of war. Despite all that, the occupation did what it has been doing for decades not caring about anything.
According to Hajj Abdelrahim Wash-ha (67), about his son Mutaz assassination, to the LRC researcher stated that:
"Around 6:00 am of yesterday, the occupation forces accompanied by more than 20 military machineries raided Beir Ziet, east of Ramallah city and took position in al-Amir neighborhood. Shortly after, the force surrounded the two floor house of Abdelrahim Wash-ha and started firing sound bombs and calling on people by loud speakers to evacuate the nearby houses". Ramiz (28) the son and Fadi(27) the cousin were handcuffed and then arrested after being beaten harmfully. The officer of the force asked citizen Wash-ha about his other son Mutaz (25) but the father had no information about his son location. At 8:30 am, a military bulldozer destroyed the western wall of the house. The demolition lasted until 10:30 in the morning. At that time, a soldiers fired the house with a shoulder-fired missile and then the force broke into the house in midst of intense shooting. At 12:00 an ambulance of the Red Crescent arrived to the place and found Mutaz a dead body on the ground that was later moved to the Palestinian medical complex in Ramallah. Medical reports said that death cause was due to missile shrapnel that hit the upper part of the body. His brain was said to come out of his skull and severe injuries and burns were shown on the corpse. The martyr was an activist with the Popular Front for the Liberation of Palestine party and was previously arrested and released six months before the assassination".
It should be mentioned that the policy of demolishing houses with residents inside is a renewed one. As a result, hundreds of houses were destroyed in addition to hundreds of injured and dead were the causalities of that policy.
Photo 1-2: the targeted house
Prepared by
The Land Research Center
LRC