Stop –work orders on agricultural and residential structures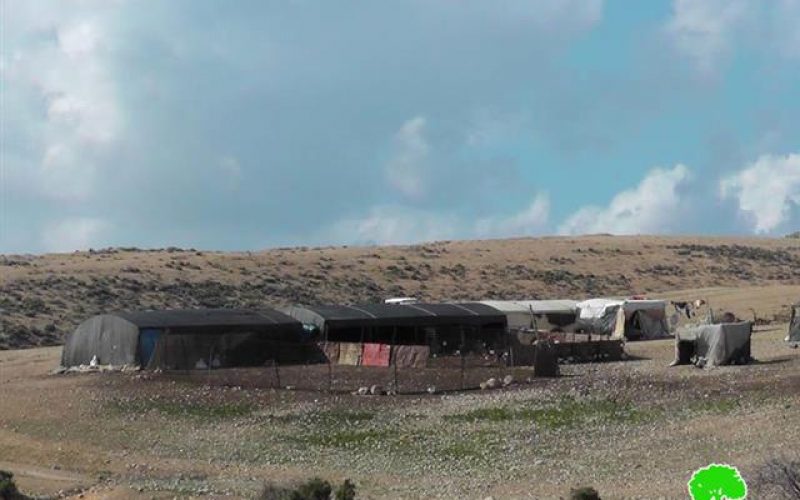 Violation: The Israeli occupation issues stop-work orders on a number of structures
|Location: Khirbet Yarza and Khirbet Ibziq- East of Tubas
Date: 23/02/2014
Perpetrators: The Israeli Planning and Construction Committee
Victims: Seven Bedouin families that consist of 41 people, including 17 children
Details:
Yarza and Ibziq, east of the West Bank city of Tubas, witnessed a new wave of attack by the Israeli Planning and Construction Committee that works within the frame of kicking indigenous inhabitants out to make a room for Israel's colonial projects.
At the early hours of Saturday, February 23, a large force of the Israeli occupation accompanied by officers of the Planning Committee broke into Khirbet Yarza, east of Tubas, where the soldiers served a Bedouin family a stop-work (construction) on its agricultural and residential structures. On the same day, the so-called Inspection Sub-committee handed six Bedouin families in Khirbet Ibziq stop-work orders under the pretext of unlicensed construction in area classified "C" according to Oslo Accords.
According to the notifications, the families were given a respite until March 24, 2014 as a final date to obtain a license. Same day was set for a meeting of the Planning and Construction Committee to be held in Beit El court. The table gives information about the targeted structures in the last orders:
Affected citizen

Location

Family

Children

Order

Damage

Remarks

Faisal Daraghmeh

Yarza

7

3

160608

-House made of metal slabs (60m2)

-Barn made of metal slabs & sackcloth (60m2)

Ghannam Ali Ghannam

Ibziq

4

2

150127

-House made of metal slabs (45m2)

-Two barns (45 m2+ 60 m2)

Demolished before

Walid Ghannam

Ibziq

6

3

150128

Barn 60m2

Lutfi Ghannam

Ibziq

8

2

150131

-House made of metal slabs (90m2)

-Barn (45m2)

Muhannad Ghannam

Ibziq

3

1

150132

-House made of metal slabs (60m2)

-Barn (45m2)

Mithqal Hroub

Ibziq

5

2

150130

-House made of metal slabs (60m2)

-Barn (45m2)

Demolished before

Mufeed Hroub

Ibziq

8

4

150129

Barn (45m2)

Demolished before

Total

41

17

5 houses+ 8 barns
*Source: Field Research- Monitoring Israeli Violations Team- Land Research Centre (LRC).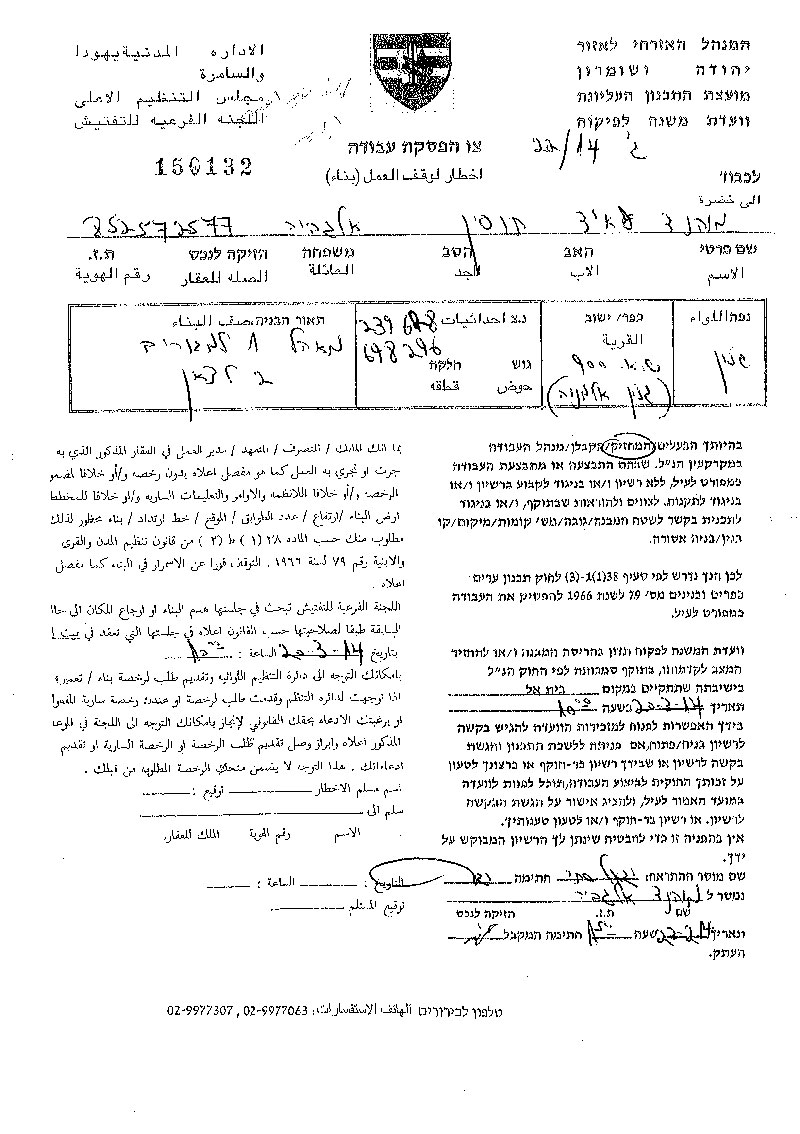 The District Inspection Committee often serves people of Ibziq eviction orders under the pretext of being in a state property or closed military zone. The Israeli occupation exerts efforts to empty the area to take full control of it. The first step towards reaching that aim is done through depriving Palestinians from their civil rights guaranteed by all religions and international conventions; people of Ibziq lead a primitive life as a result.
Khirbet Ibziq is 8 km east of Tubas and is a targeted Bedouin gathering, just like the Khirbets of Samra, Ainon and Hamsa. Its inhabitants depend on sheep grazing and agriculture as sources of living and on wood and sackcloth for building their dwellings. They lack basic daily services like water and electricity. They can get water by carrying jars of water from Tubas to Ibziq; a journey of 8 km.
38 Bedouin families live in Ibziq; that is 256 people. 16 out of the 38 families live permanently in the area while others are nomads- according to the head of Ibziq community. Ibziq was named after Bazqin, a religious figure buried in the place.
The area of Ibziq is 8,000 dunums- 5,000 of which are considered Jordanian crown land Bedouins are not allowed to take advantage of because of Israeli continuous attacks, the latest of which were the eviction orders. The lands are considered closed military zone and lands for military practice.

1-3: Pictures of Ibziq and the orders
Prepared by
The Land Research Center
LRC