Destruction of Land Planted with Field Crops in Khirbet Ibziq- Tubas governorate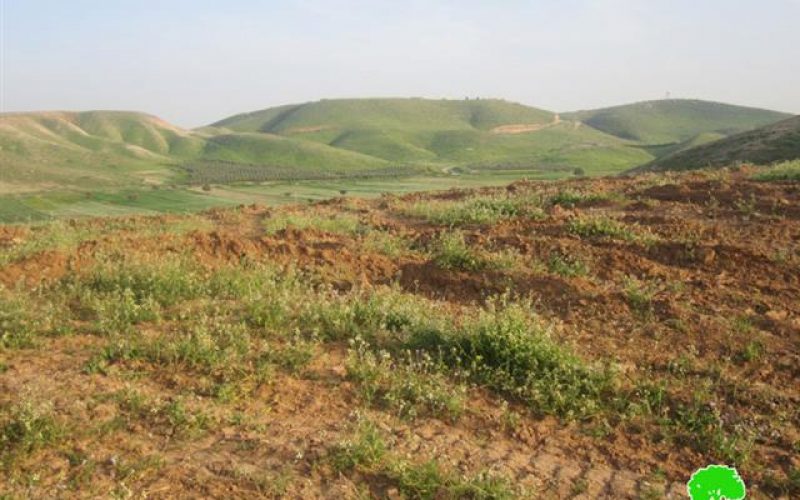 Violation: Ravaging of 50 dunums planted with winter field crops
Location: Khirbet Ibziq- Tubas governorate
Date: 12/02/2014
Perpetrators: The Israeli occupation army
Victims: People of Khirbet Ibziq
Details:
Since last year, the Israeli occupation authorities have declared the northern Jordan Valley a closed military zone, and imposed measures that would limit the Palestinian presence in the Palestinian Jordan Valley. Moreover, the Israeli authorities have been using military trainings as a means to destroy land in the Valley, resulting in displacing tenths of Palestinian families and depriving many from using the agricultural resources and pastures rampant there.
Military trainings cause great damage for Palestinian farmers. Since February 2014, when the military exercises began for the current year, the Israeli forces have deployed soldiers and set up tents amid houses and Bedouin communities in the northern Jordan Valley as well as turned most pastures and agricultural lands into military zones and fire shooting areas, entailing great losses of the agricultural sector and animal wealth in particular.
Topping all of that, Israeli machines do deliberately destroy agricultural land planted with various crops. The latest of such act has been carried out on February 12, when the tracks of Israeli tanks ravaged 50 dunums planted with grains Palestinian farmers have been impatiently waiting to yield. The result was causing damage to nine families from Tubas city and Khirbet Ibziq who depend on agriculture to make a living.
Farmer and head of Wadi al-Maleh Bedouin community, Mr. Aref Daraghmeh, stated to an LRC observer that:
"There are crimes committed in the Jordan Valley on the part of the Israeli occupation on a daily basis as there is a systematic and renewed Israeli policy to displace the inhabitants of the Jordan Valley by using different means against humanity, some examples of which are depriving them from their sources of living, demolishing their houses, confiscating their pastures and natural resources, chasing farmers living in Bedouin communities which Israel has been dismantling over and over. Add to this, targeting Palestinian farmers through military maneuvers, espcially at the beginning of the spring to destroy their winter crops and by using flash light bombs to set fire to summer crops."
Prepared by
The Land Research Center
LRC