Colonists Attack Palestinian Properties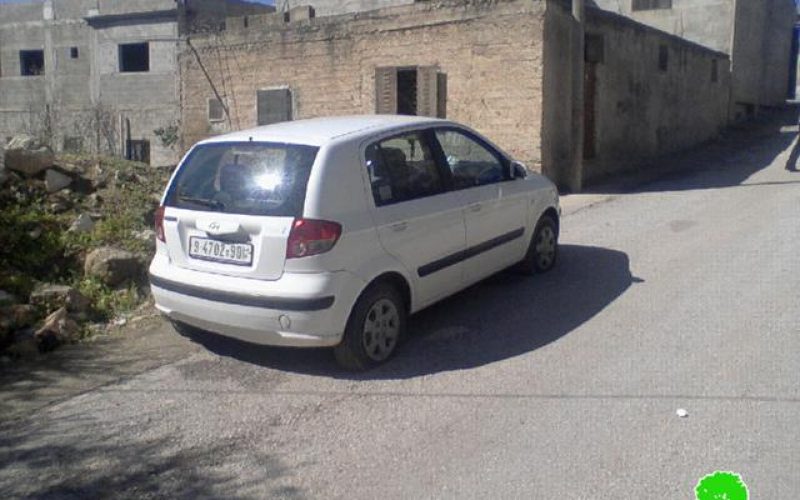 Violation: puncturing car tires and writing offensive slogans on houses walls.
Location: Yasouf – Salfit.
Date: February 18, 2013.
Perpetrators: colonists of Tipuah.
Details:
On February 18, 2013, Israeli colonists launched a new attack on the Palestinian village of Yasouf; at the early morning hours, Israeli troops broke into the village seeking "fugitives". The soldiers spread chaos in the village and abused some of the villagers.
Minutes after the soldiers departure, a group of colonists took over before writing a number of offensive and racist slogans on some of the houses walls. They had also punctured the tires of 3 vehicles.
The colonists signed out by writing "Payback" which is a group of colonists responsible for numerous attacks around the West Bank.
Table 1: victims of the attack:
| | | |
| --- | --- | --- |
| Victim | Damage | Picture |
| Nabil Abdul Razzaq | Offensive slogans written on his house walls | 1 |
| Nash'at Abdul Fattah | Puncturing the tires of his 2006 Hyundai Getz | |
| Mufeed Mesleh | Puncturing the tires of his 2002 Volkswagen | |
| Naser Mansour | Puncturing the tires of his 2008 Hyundai I3 | |
Yasouf:
Yasouf is located 7 km to the north east of Salfit. It is inhabited by around 2600 people (PCBS) with a total of 260 households who mostly depend on agriculture in their living.
Its total area is around 8550 dunums including 1000 dunums of built up area. The Israeli colonial activities devoured 300 dunums of the village lands.
Kfar Tipuah colony over looks Zaatara checkpoint which splits the West Bank into two halves. Its total area is 233 dunums and it contains a military camp. The colony was established in 1982, so far, two outpost have been amended to the colony, these are:
Rihalim B located to the south of Yasouf

New Tipuah to the east of the village.
These two outposts took over around 1000 dunums of Yasouf lands.
Prepared by:
The Land Research Center