29 Bedouin families ordered to evacuate their residences in Bedouin Khirbets in the Jordan Valleys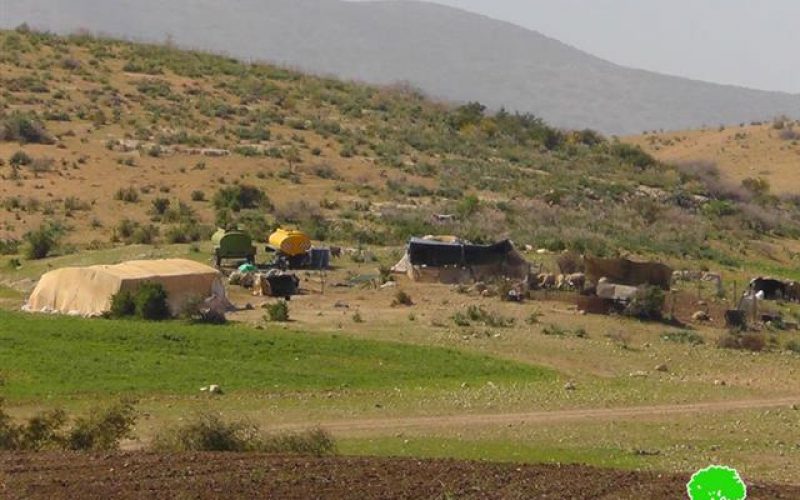 Violation: the occupation orders 29 families to evacuate
Date: 24/02/2014
Location: Bedouin Khirbers (Yzra, Ibziq, al-Burj, al-Miteh) /Tubas governorate
Perpetrators: the army of the Israeli occupation
Victims: 29 Bedouin families (174 members including 96 minors)
Details:
On Monday 24/02/2014, the Israeli occupation served 29 Bedouin families, living in al-Malih area, verbal and written orders that compel them to evacuate their houses( bricks and metal slabs) under the pretext of military training( starting on Wednesday from 7:00 am until 4:00pm) in the Palestinian part of the Jordan Valley (al-ghoor).
The orders were served to 16 Bedouin families in khirbet Ibziq, 4 Bedouin families in al-Burj area, 6 Bedouin families in al-Miteh, and 3 families in Yzra.
The chairman of al-Malih and the Bedouin communities' council to the LRC observer stated that: "there has been frequent targeting on farmers and resident of al-ghoor in synchronization with the plantation and animal reproduction seasons. That is to affect the citizens' stability and source of living that mainly depend on sheep and agriculture. Since the occupation of the West Bank, many people have been suffering from the plan of al-ghoor citizens' displacement and natural resources confiscation".
He also added: "the military training has been repeated frequently in the same time of every year. As result, damages reached out citizens in addition to the fauna and flora".
The legal consultant of Tubas governorate Mohammad Mallah, about the military training, to the LRC researcher stated that: "what has been happening in al-ghoor is an obvious war crime contradicting all Human rights and international conventions. The occupation aimed at displacing the residents of al-ghoor under an international silence. Hundreds of violations by the occupation were documented and filed to Israeli courts but with no result to be rendered".
Mallah added that: "the area of al-ghoor is one third of the total area of the West Bank. It was anciently described as green Palestine and today, after 47 years of the occupation, the area lost its merit and became a target for colonial activities. More than 31 colonies inhabited by 7500 colonists are located randomly in that area where 18 Palestinian community inhabited by 56,000 people are there. Noteworthy, the occupation insists on considering al-ghoor as the eastern frontier of Israel, which can never be negotiated about since the area is as important as Jerusalem for them. Given that, the occupation has been issuing laws to guarantee best control on the area".
Despite all that, the Palestinian farmer insists on staying in the lands where heshe builds houses of bricks and plastic sheds. Farmers took animals breeding as a source of living and a food supply. All in all, that formed a huge obstacle in the face of the colonial plans of expansion and lands takeover.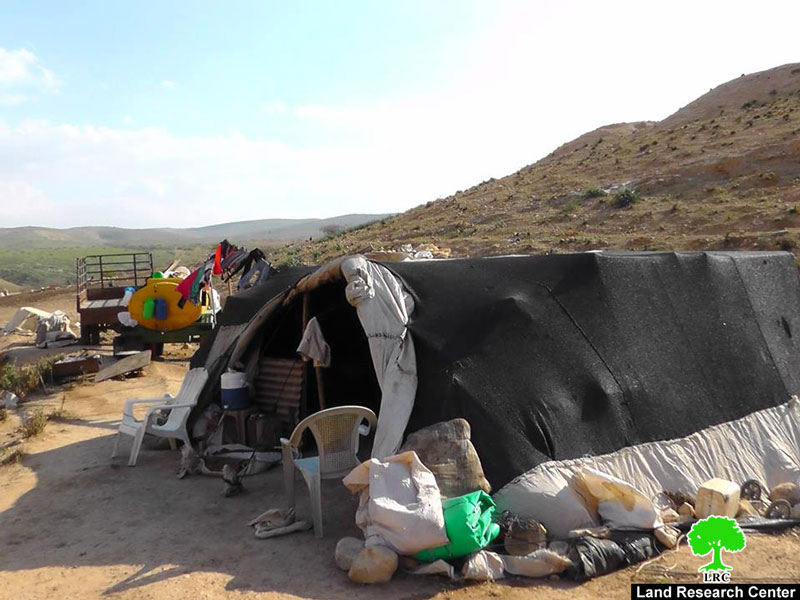 Photo 1: al-Malih area
Prepared by
The Land Research Center
LRC