The Israeli occupation totally razes Umm Jamal dwelling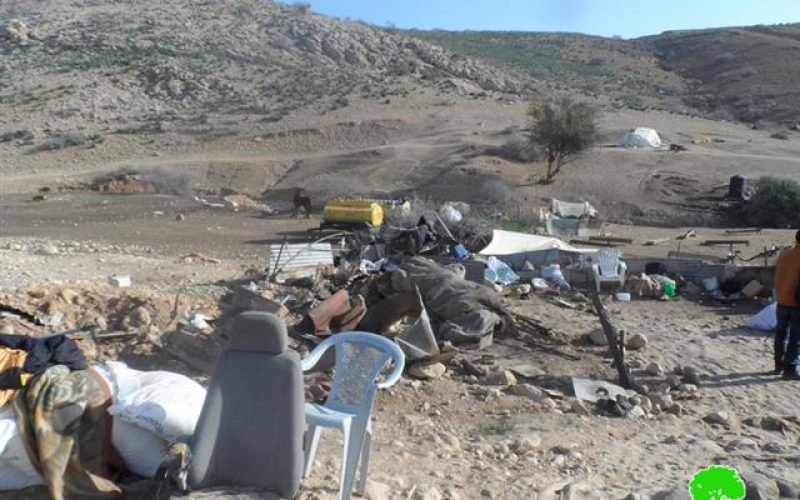 Violation: Demolition of Umm Jamal, a Bedouin gathering
Date: 30/01/2014
Location: Umm Jamal- Tubas governorate
Perpetrators: The Israeli occupation army
Victims: 12 Bedouin families
Details:
The northern part of the Jordan Valley has witnessed a new wave of attack by the so-called Israeli Civil Administration in coordination with the Israeli army. The target of the attacks is to strip indigenous Palestinians of their basic human rights like the right to proper housing and living in dignity in the land they inherited from their ancestors.
On Thursday, January 30, 2014, a large force of the Israeli occupation army accompanying two bulldozers of the Israeli occupation forces raided Khirbet Umm Jamal in Wadi Al Maleh, east of Tubas.
The heavy machines embarked on demolishing all residential tents and pens in the dwelling, destroying furniture along the way. Mercilessly, the Israeli occupation forced civil residents including children, women, and the elderly to go out under the chilly weather. 69 people including 35 children were made homeless.
The Israeli occupation justified the demolition operation on the pretext of unlicensed construction on lands that belong to the Latin Patriarchate in the Holy Land. The Israeli occupation had sent residents of Umm Jamal stop-work orders at the beginning of 2013.
Mr. Aref Daraghmeh, head of Wadi Al Maleh and Bedouin dwellings council, stated to an LRC observer that: "The timing of the demolition operation was compatible with sheep's reproduction season. Sheep are the only and main source of income to the residents of Umm Jamal. The demolition was in synchronization with the beginning of the winter season as well."
Haj Ahmad Al Ka'abna, mayor of Al Ka'abna in Umm Jamal, told an LRC observer that: The Bedouin families were already misplaced for three consecutive times in the Jordan Valley. In February in 2011, the whole population fled Al 'Auja and went to the northern parts of the Jordan Valley. But the Israeli occupation is determined to follow them up and kick them out like the rest of Palestinian inhabitants in the Valley. They were moved to Umm Jamal and now they are homeless once again.
It is worth mentioning that Umm Jamal dwelling is located in Wadi Al Maleh, 12 km east of Tubas. It is inhabited by Al Ka'abna people who were kicked out from Beersheba, south of historic Palestine, in the 1948 war. The residents depend on sheep grazing as their only source of income. They build their shelters with wood and cloth and lead a life that could be described as primitive.
Prepared by
The Land Research Center
LRC