The Israeli occupation demolishes a number of residences and barns in Al Jiftlik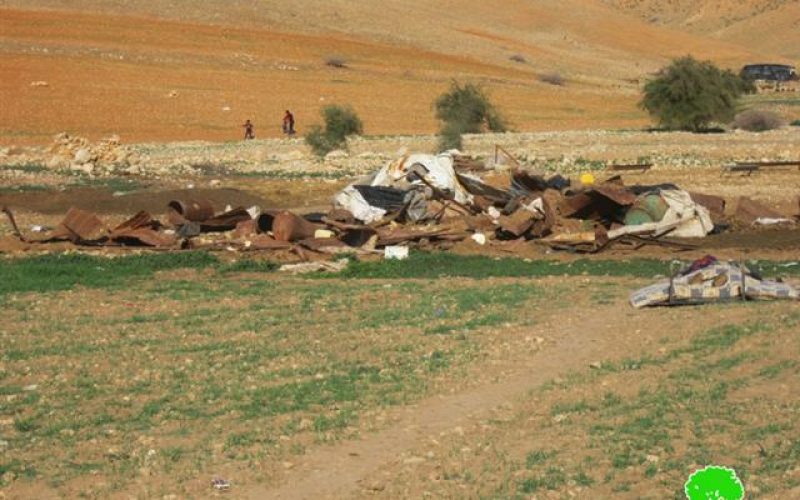 Violation: Demolishing sheds used as barns and residences in Al Jiftlik
Date: 08/01/2014
Location: Al Jiftlik – Jericho governorate
Victims: 4 Bedouin families
Perpetrators: The Israeli occupation army
Details:
In application of the Israeli plan to evacuate the inhabitants of the Jordan Valley in favor of colonial plans, the Israeli forces carried out a large ravaging operation destroying a number of barns and shelters in Al Jiftlik. At 7 a.m. on January 08, 2014, seven military jeeps and two bulldozers headed into Al Jiftlik where the bulldozers embarked on destroying four shelters made of metal slabs as well as seven barns used for sheep breeding.
The demolished shelters and barns belong to 4 Bedouin families (27 people including 15 children) who live in the west southern part of Al Jiftlik. The table gives information about the damage ensued due to the last demolition operation in Al Jiftlik:
Affected citizen

family

children

sheep

Damage

shelter

shed

bathroom

Tabon (oven)

pictures

Fahmi Tawariq

11

6

130

1

2

1

1

1

Omar Tawariq

7

5

40

1

1

—

1

2

Zuhair Bani Menieh

4

2

70

1

2

1

1

3

Rahi Menieh

5

2

90

1

2

—

1

4

Total

27

15

330

4

7

2

4
It is worth mentioning that Bani Menieh family originally descends from Aqraba in Nablus governorate but the difficulty of life and their dependence of sheep grazing as the only and main source of income prompted them to go to Al Jiftlik two years ago where they settled and built metal slab houses without any basic infrastructure. However, the Israeli occupation did not leave them alone; people received demolition orders for their agricultural and residential structures on July 05, 2013 under the pretext of staying in a closed military zone.
Jiftlik is located in the heart of the Jordan Valley; its total area is 185032 dunums, all of it classified 'C' according to Oslo Accords. The village is unrecognized by the Israelis rendering most of its structures threatened with demolitions while 70 % of its lands have already been confiscated. In addition, Jiftlik is suffering from the colonies surrounding it especially Misuah and Mikhola colonies; these colonies that had already devoured huge areas in addition to being the starting point of several attacks against the villagers.
Prepared by
The Land Research Center
LRC