Stop-work orders on homes and demolition order on a structure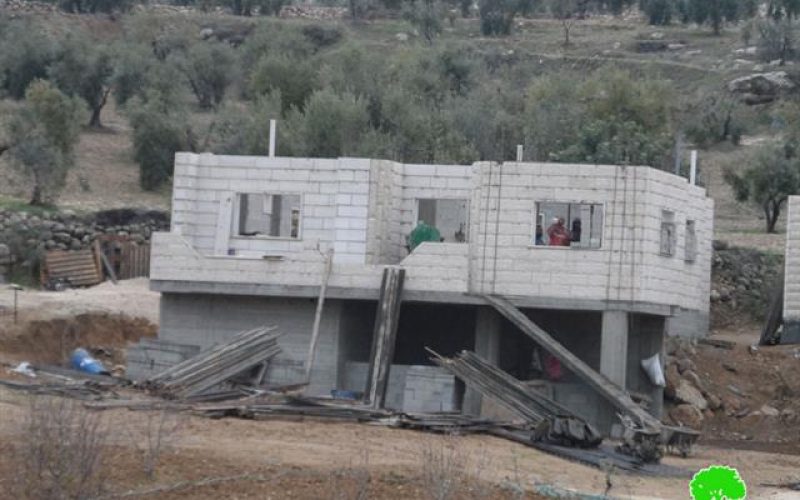 Violation: Issuance of stop-work (construction) and demolition orders on houses and barrack
Location: Deir Samit village/ Hebron governorate
Date: 03/01/2014
Perpetrators: The so-called Israeli Civil Administration
Victims: Palestinian civilians of Deir Samit
Details:
On January 03, the Israeli authorities targeted three houses with stop-work (construction) orders and a barrack with a demolition order. All structures are located in Deir Samit village, west of the West Bank city of Hebron.
A patrol of the Israeli occupation army accompanied by officers of the Civil Administration (C.A.) broke into the eastern neighborhood of the village where the C.A. officers penned the orders, placed them on the targeted structures, and took pictures before they left.
The stop-work orders:
The Israeli authorities served three citizens orders to stop work in their homes, two are under construction and one is inhabited, under the pretext of unlicensed construction in area classified "C" according to Oslo Accords.
The orders asked for an immediate halt of any construction work and set 30/01/2014 for a hearing session of the Inspection Subcommittee in Beit El colony in order to consider "whether to demolish the houses or return them to their previous status." The orders also stated that "owners can apply for a building permit but that does not ensure they will be granted one."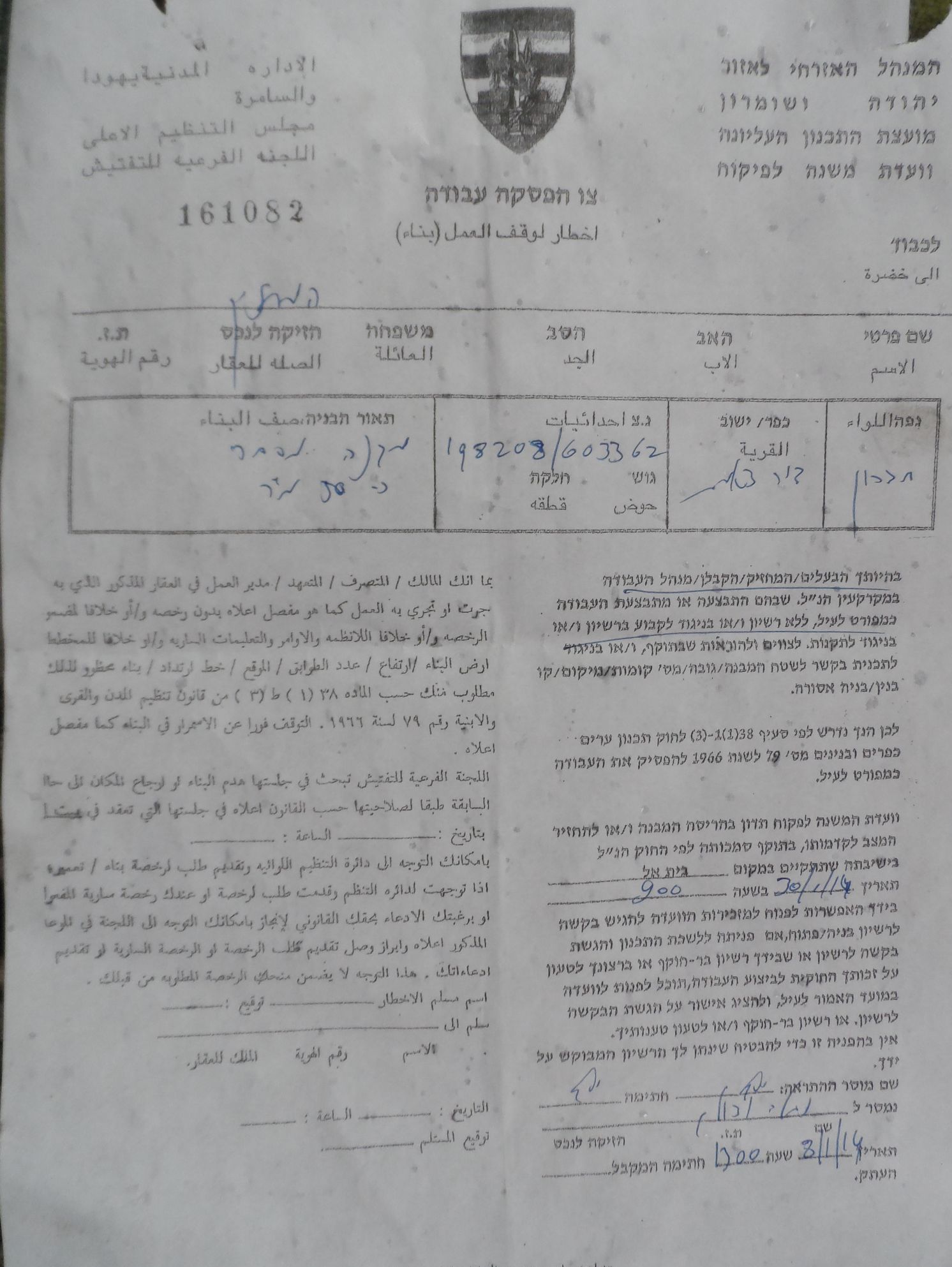 Picture A: Photo-copy of the stop-work orders
The following table shows the targeted homes and affected citizens by the last orders in Deir Samit:
| | | | | | | |
| --- | --- | --- | --- | --- | --- | --- |
| No. | Name | Family | Area/ m2 | No. of floors | Status | Year of construction |
| 1 | Ahmad al-Sharha | 2 | 200 | 2 | Inhabited | 2012 |
| 2 | Hussein al-Sharha | 10 | 500 | 2 | Under construction | 2013 |
| 3 | Younes al-Sharha | 2 | 140 | 2 | Under construction | 2013 |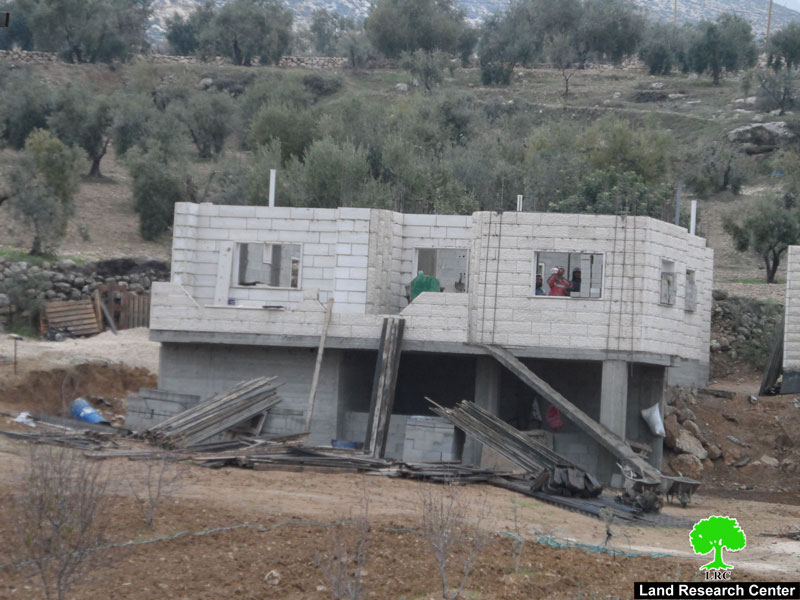 1- The demolition order
The Israeli authorities served Ibrahim al-Hroub a final demolition order on his barrack that is used for recycling junk and founded on a 4-dunum land plot. Authorities gave al-Hroub a 1-week respite to object the demolition order.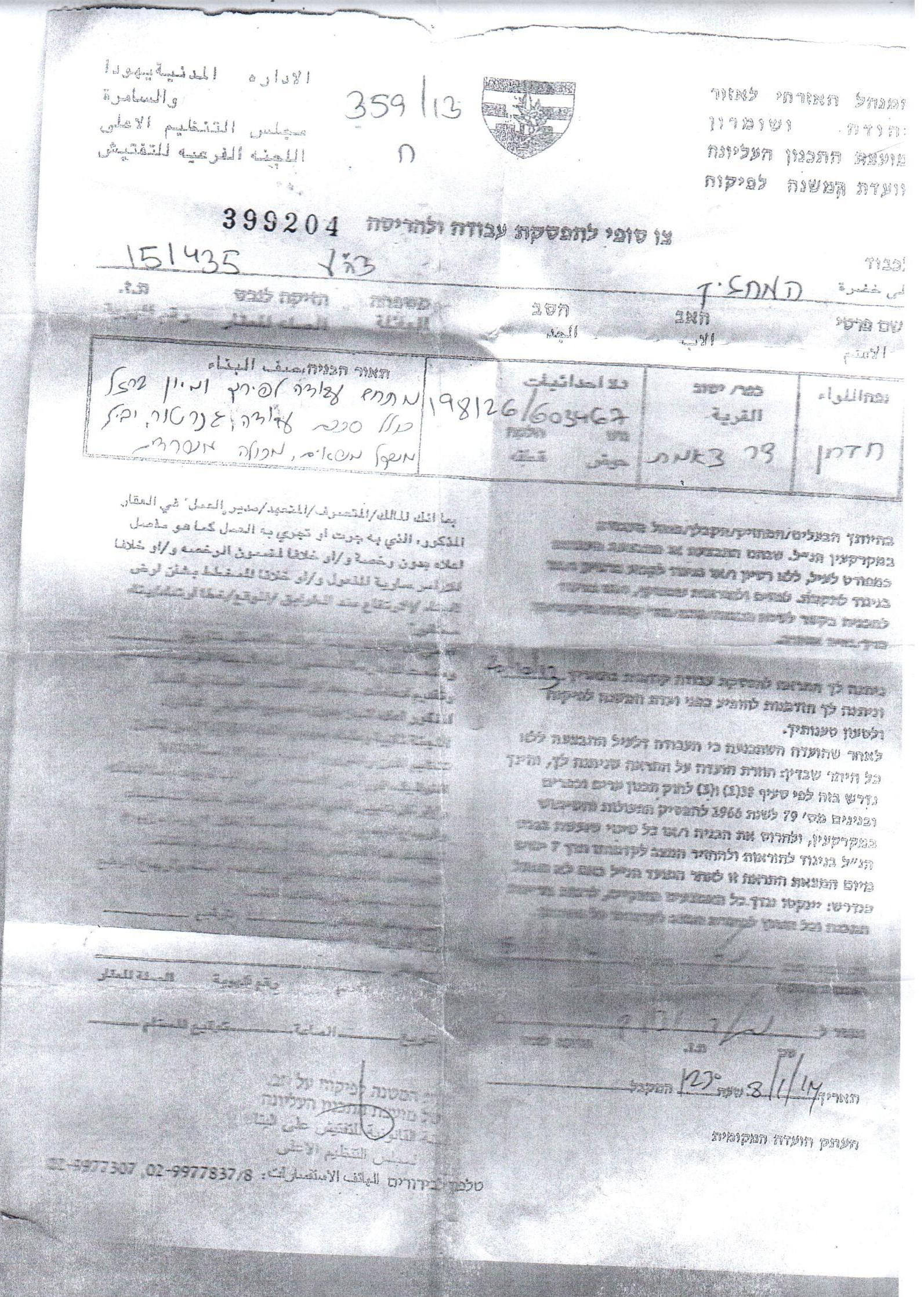 Picture B: Demolition order on al-Hroub's structure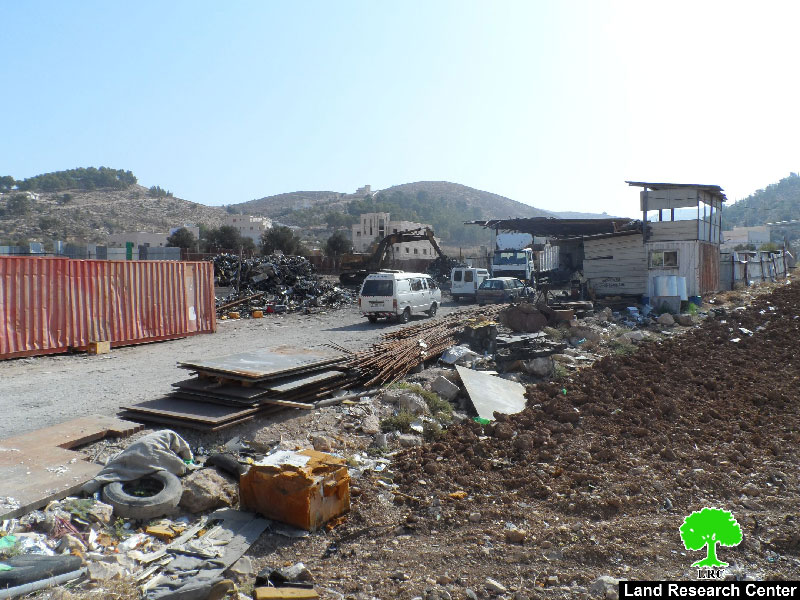 Picture 4: al-Hroub's threatened structure
It should be marked that the Israeli authorities sent al-Hroub a stop-work order on his structure on 20/10/2013 but he did not object the order back then nor did he applied for obtaining a building permit, in belief that he would not be granted one.
Deir Samit "Al Yasiriya"[i]:
13 kilometer south west of Hebron, Deir Samit is surrounded by As Sumaya (north), Tarusa and Dura (east), Beit 'Awwa and Wadi 'Abed (south). It has a population of 6,237 people according to statistics conducted in 2007. Deir Samit has a total area of 22,273 dunums, 717 of which are built-up area of the town.
Two colonies are built on Deir Samit lands. The first one is Mirshalim and it confiscated 40.5 dunums. The second is Negohot which was built in 1982 and devoured 112 dunums of the village. It is inhabited by 134 colonists.
Moreover, bypass road number 3265 which serves Jewish colonists only confiscated 413 dunums of the land. Let alone the Apartheid Wall that devoured 414 dunums and isolated 350 dunums. The Wall is 4143meters long.
According to Oslo Accords, 54% of Deir Samit lands is under Area B (PA is in charge of civil matters with Israel responsible for security) while 46% is under Area C (Israel maintains full security and administrative control). Here are the area in dunums:
Area B (12,016) dunums
Area C (10,251) dunums
For more information about the Israeli violations of Palestinians' structures in Deir Samit, check this link out:
http://www.poica.org/editor/case_studies/view.php?recordID=6911
Prepared by
The Land Research Center
LRC

[i] Source: Geographic Information System- Monitoring Israeli Violations Team- Land Research Center