Price taggers colonists torch a car and write hatred-enticing slogans on houses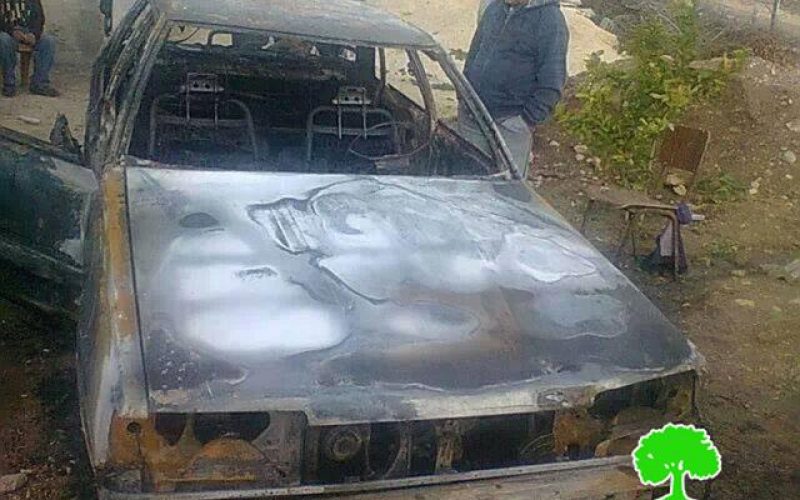 Violation: burning down a private car and writing discriminative slogans
Date: 06/12/2013
Location: Jalud village
Perpetrators: Ahya colonists
Victims: citizen Fathi al-Haj Mohammad
Details:
On December 6th 2013, a group of Price tag gangsters raided the area of Jalud in the southern suburb of Nablus city. This targeted area is only 1km away from the outpost of Ahya, which is relative to Shevut Rahel colony. It should be marked that the fundamentalists set fire to a 1988 Subaru that ended up burnt down. Slogans such like "kill Arabs" in addition to the logo of the gang were written on the wall of some houses.
The aforementioned house and car belong to citizen Fathi al-Haj Mohamad from Jalud. The residence is located in an area relatively far from the master plan of the village but notably close to the colonial outpost in the area.
It should be mentioned that this is not the first time the village of Jalud get raided and vandalized by colonists. On October 2013, extreme colonists broke into Jalud primary school and assaulted students no mentioning the torch of 90 olive trees in the area.
According to the data of Jalud village council, the total sum of violations and assaults inflicted on farmers during the harvesting season of olive is 11 in number, which are represented in banning farmers from harvesting their crops.
The village of Jalud has been a hot spot in terms of constant harassments, which turned the place into an aggrieved location. Colonists even used the worst means to traumatize and scare residents such like pumping incendiary substances on them.
About Jalud:
25km southeast of Nablus, Jalud has a total area of 16,517 dunums, 80.5 of which are a built-up area. The Israeli occupation confiscated 1207 dunums of Jalud lands for the sake of colonies expansions. The village total population reached up to 464 people until 2007.(Source: Jalud village council).
A number of outposts are located on the lands of the village namely( Ahya, Adi Ad, Yash Kodesh and Kida. These random outposts looted a vast area of lands and harassed and traumatized people by changing facts on the ground.
It should also be indicated that the random outposts started at time of the previous prime minister of Israel Ariel Sharon who, by time of second Intifada outbreak, called upon settlers to occupy the tops of mountains and hills to create a unchangeable and nonnegotiable reality with Palestinians.
Prepared by
The Land Research Center
LRC