Demolishing six barns for sheep husbandry in Tubas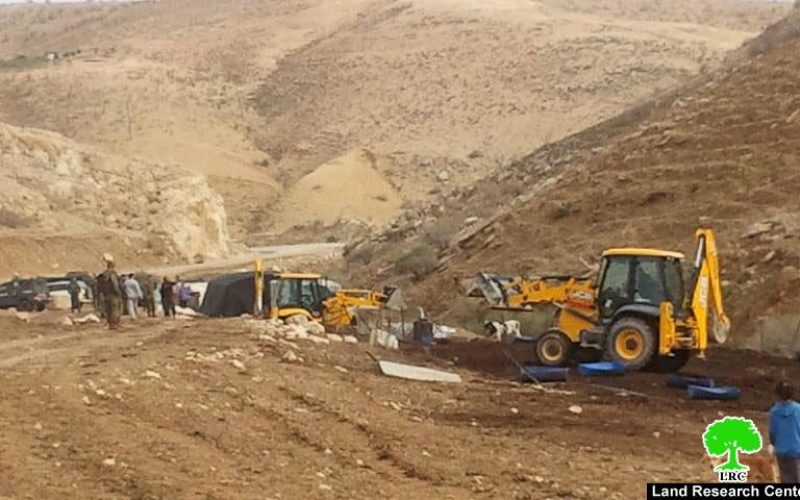 Violation: the occupation destroys 6 barns for sheep husbandry
Date: 10/12/2013
Location: Khirbet Yarza/ Tubas governorate
Perpetrators: the army of the Israeli occupation
Victims: five Bedouin families
Details:
For the second time in row within a period of less than two weeks, the army of the Israeli occupation accompanied by two military bulldozers, on 10/12/2014, raided the area of Khirbet Yarza and embarked demolition that reached out six barns( made of wood and cloth) for sheep husbandry. This demolition came under the pretext of unlicensed construction despite all residents' attempts to object the order and to prevent the destruction of the structures.
It should be marked that the latest demolition came in time with the bad weather conditions the country underwent. Noteworthy, the occupation took advantage of a storm hitting the country soon in order to strike the farmers sheep husbandry business.
The occupation has been using force and taking advantage of weather's hard condition and climate change to harass people of the al-ghoor; the Palestinian Jordan Valley. This is for the sake of displacing indigenous from the lands they inherited from their grandfathers .
Photos 1-4: scenes of the latest demolition
The following table shows information about the targeted structures at Yarza :
| | | | | | |
| --- | --- | --- | --- | --- | --- |
| Affected citizen | Family | Minors | No. of sheep | Area of the targeted structure | notes |
| Saed Msa'id | 9 | 5 | 150 | Two barns(120m2) | Previously notified |
| Erhil Msa'id | 4 | 1 | 60 | 45m2 | Previously notified |
| Bajis Msa'id | 3 | 0 | 90 | 60 m2 | Previously notified |
| Khalil Msa'id | 6 | 4 | 110 | 90 m2 | Previously notified |
| Miflih Msa'id | 8 | 5 | 45 | 45 m2 | Previously notified |
| | 30 | 15 | 455 | 6 barns | |
About Yarza:
It is situated 10km east of Tubas, more specifically in the area of Sahel al-Buqai'a. The Khirbet is inhabited by 12 families of 100 people who remained out of hundreds farming and planting their agricultural lands estimated of 25,000 dunum in area of which 283 dunum is classified under the name of Jither Balad, which is an old inhabited city.
It is indicated that 75% of Yarza lands belong to the Jordanian Tabu under and are registered under the ownership of Palestinians who had to leave the area towards Tubas and the nearby Khirbets due to the extreme discriminative activities the occupation inflected upon them. It should be also mentioned that the roots of Yarza citizens come from Tubas and that the Khirbet has three main families namely Ainabosi, Msa'id, and Shideh.
Yarza is considered a closed military zone by the occupation, using its lands estimated of 25,000 dunums as shooting fields , and military training camps due to the mountainous forest nature of the location. Noteworthy, the Cobra training camp that is situated in Yarza in addition to tens of shooting fields located here and there form an imminent danger on the life residents. Training camps caused a huge damage on residents either by the outcomes of direct military training or by their leftovers. Since the area is declared inaccessible for Palestinians, Yarza lacks all kinds of life services and standards due to the blockade on the area.
Prepared by
The Land Research Center
LRC