Setting 28 trees on fire in Husan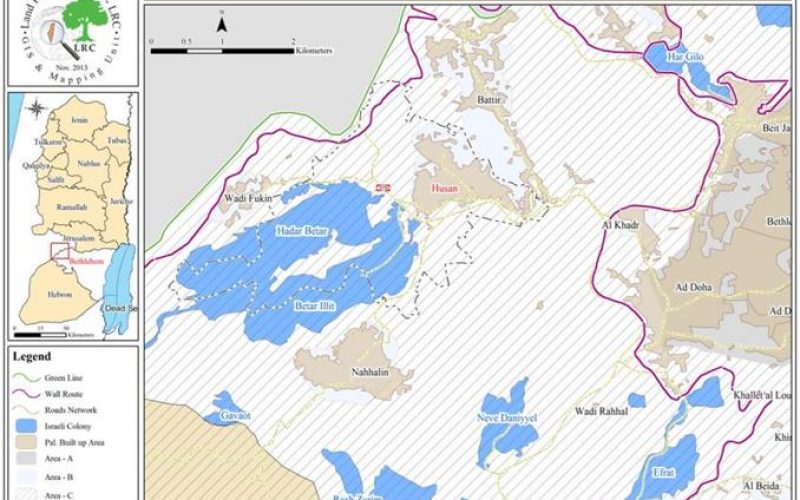 Violation: Burning 28 different trees (12 grapevines, 11 olive trees, 5 almond trees)
Location: Husan village- Bethlehem governorate
Date: 03/10/2013
Perpetrators: Colonists of Betar Illit
Victims: Members of Shosha family
Details:
On October, 03, 2013, a group of colonists set a 3-dunum of agricultural land on fire, thus leading to the damage to grapevines, almond and olive trees. The 12 grapevines were totally damaged while the rest of the trees were partially damaged.
Pictures 1-3: The harmed trees
The destroyed trees are estimated to be 10 years ago. The targeted land is located inside Betar Illit colony, amid its buildings. So, farmers reach their lands via the colony's main gate where the guard has their names known.
Pictures 5-6: The targeted land
Mohammad Hamamra, an eye witness, stated to an LRC observer that :
"One of the farmers present to plant his land called the landowners whose land was on fire to inform them of the incident. When we knew, we all rushed to help extinguish the fire."
Colonists of Betar Illit become more active and intense in their attacks during olive harvest time.
About Husan:
Husan is 8 km west of Bethlehem and is edged with Wadi Fukin (west) Nahhalin (south), Wadi Rahall (east), and Battir (north).
It has a total area of 7360 dunums, 801 of which are built-up area. The Israeli occupation confiscated 2759 dunums to build Betar Illit and Hadar Betar colonies. Besides, bypass number '375 devoured 180 dunums.
The Apartheid Wall destroyed 124 dunums of Husan lands and isolated 150 dunums.
According to the 2007 statistics, the village population is 5551 people.
According to Oslo Accords, 14% of Husan is under Area B (PA is in charge of civil matters with Israel responsible for security). However, most of the village lands (86%) is under Area C (Israel maintains full security and administrative control). Here are the area in dunums:
Area B (1036) dunums

Area C (6324) dunums