The Israeli occupation demolishes residences and sheds in Khallet Al Karsana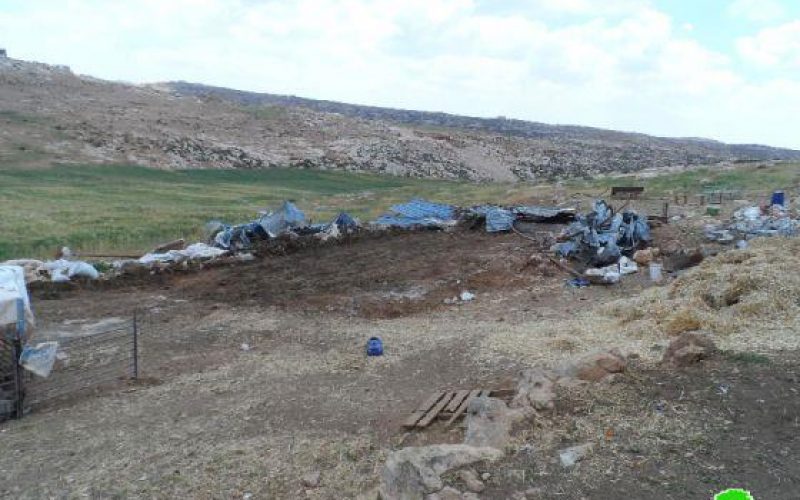 Violation: Demolition of residences and sheds used as barns
Date: 09/04/2013
Location: Khallet al Karsana- As Samu'- Hebron governorate
Perpetrators: Israeli authorities
Victims: Ata Allah Abu al Kabash and his family
Details:
On April 09,2013, the Israeli authorities demolished residences and sheds used as barns that belong to Ata Allah Abu al Kabash and his son I'nad in Khallet al Karsana, west of As Samu' in Hebron governorate.
I'nad Abu al Kabash explained that three jeeps of the Israeli occupation army along with a force of the police, 3 workers, a digger and bulldozer raided Khallet al Karsana where the soldiers and police surrounded the place and embarked on leveling the structures.
Abu al Kabash said that they arrived at Khallet al Karsana a year ago. They used to live in the northern part of the Jordan Valley where they were shepherds. But due to constant harassments by the occupation, Abu al Kabash decided to go to as Samu' where they bought a piece of land and built dwellings as well as animal barns. But even there, they were chased by the occupation.
On November 11, 2012, the Israeli occupation authorities sent Abu al Kabash stop-work orders for his structures. But because they were newcomers to As Samu', Abu al Kabash family did not know how to object the orders nor apply for a building permit. On January 15, 2013, the authorities sent them demolition orders. Upon receiving them, I'nad Abu al Kabash went to the Ministry of Local Government in Hebron and submitted the orders. Yet the family was surprised to find the Israeli occupation authorities raiding the area and demolishing their structures in April.
The Red Cross Society provided Abu al Kabash family with 2 tents while the animals had to be in the open air after the occupation demolished their sheds.
Pictures 10-11: Abu al Kabash family in tents
The table gives information about the destroyed structures:
Atiyya Ata Allah Abu al Kabash

50 م2

I'nad Ata Allah Abu al Kabash

150 م2

50 م2

50 م2

4 م2

6 م2
Abu al Kabash also explained that the Israeli bulldozers ravaged animal fodder and 10 saplings of grapes.