The Israeli occupation defaces Makhoul and demolishes its structures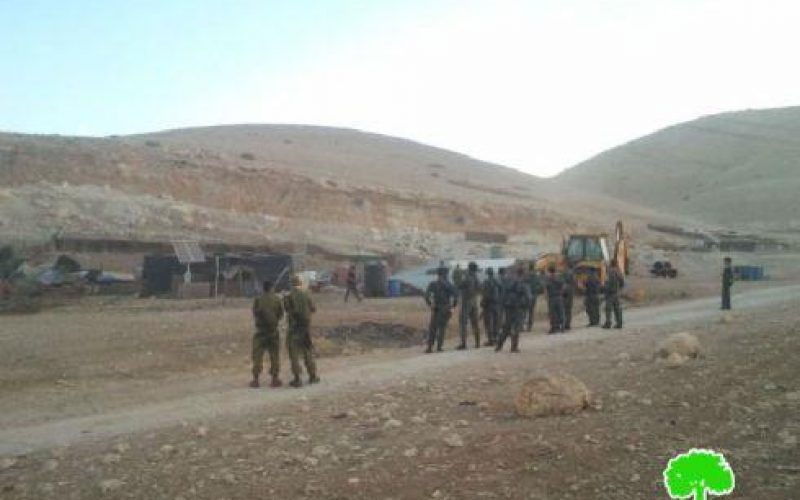 Violation: The Israeli occupation demolished 57 residential and agricultural structures and evicted 51 people and 1710 livestock
Date: 16/09/2013
Location: Makhoul – Tubas governorate
Victims: 10 Bedouin families
Violation:
Makhoul, in the heart of Jordanian Valley, witnessed a new wave of radical attacks by the Israeli occupation aiming at emptying the region of its indigenous residents.
On 16/09/2013, a big force of the Israeli army and Civil Administration along with 3 military dozers raided Makhoul where they carried out a large-scale demolition operation that affected every structure in Makhoul and left 10 Bedouin families, including 33 children, homeless.
Residents of Makhoul received stop-construction orders in summer of 2009. And on 29/08/2013, Israeli Supreme Court ruled in favor of demolishing all structures in Makhoul and refusing any master plan regarding it.
The table shows the affected citizens of Makhoul:
Houses of wood+ cloth / m2

Makhoul's only kindergarten

1710

51

10 residential structures+ KG

3 stores, 9 lavatories, 9 kitchens
*Resource: Field Research- Monitoring Israeli Violations Team- Land Research Centre
Pictures 1- 14: Scenes of the demolition operation in Makhoul- Tubas
Land of Research believes that destruction operations are a violation to all the international conventions, human rights, and international legitimacy. They are a violation of the Geneva convention, article no. 53, stating that:
"Any destruction by the Occupying Power of real or personal property belonging individually or collectively to private persons, or to the State, or to other public authorities, or to social or cooperative organizations, is prohibited, except where such destruction is rendered absolutely necessary by military operations."
It is also a violation of article 17 of the universal declaration of human rights, 1948, stating: "1. Everyone has the right to own property alone as well as in association with others.
2. No one shall be arbitrarily deprived of his property."
Furthermore, it is a violation of part (g) of article 23 of the "La Hague" Conventions of 1907 stating that "destroying or seizing the enemy's property, unless such destruction or seizure be imperatively demanded by the necessities of war" is prohibited.