The Israeli army ravages 7 dunums of agricultural dunums and uproots 210 saplings in Ras 'Atiya- Qalqiliya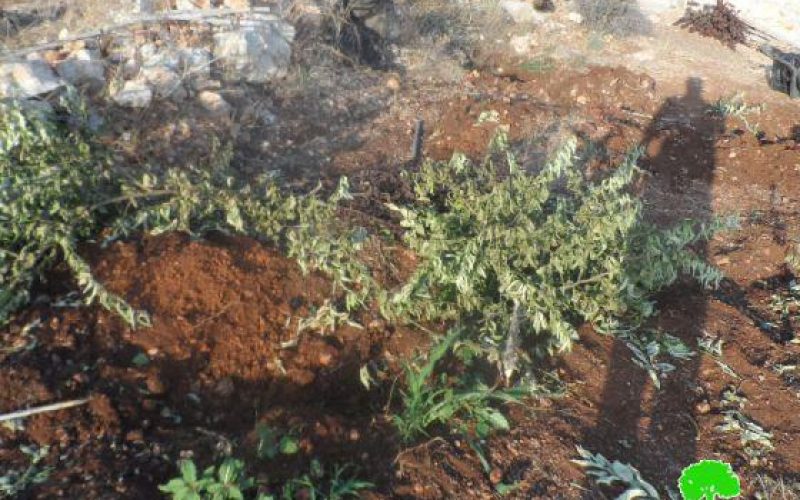 Violation: ravaging 7 dunum agricultural land and uprooting and stealing 210 olive saplings
Date: 12/09/2013
Perpetrators: The Israeli occupation army
Victims: Two farmers
Details:
On 12/09/2013, the Israeli occupation army along with 2 dozers and 3 military jeeps raided Ras 'Atiya village, south of Qalqiliya, where the dozers ravaged 7 dunums of agricultural lands planted with olive trees, citrus, and guava. The trees are 3 years old.
Moreover, the Israeli occupation soldiers demolished an agricultural room built with wood and belongs to Ahmad Basharat, a farmer.
The Israeli occupation did not only uproot saplings but also confiscated most saplings and moved them via special cars to Alfei Menashi colony nearby.
The targeted lands are near the colony and the Israeli occupation justified what it did by claiming that the targeted lands lie within "State property"
The table gives general information about the damages inflicted by the Israeli occupation's attack:
No. of uprooted+ stolen trees

12

5

7

75

80

55
*Resource: Field Research- Monitoring Israeli Violations Team- Land Research Centre
Ras 'Atiya village is 12km away from Qalqiliya. Its agricultural area is 2083 dunums, 1000 of which are confiscated in order to expand Alfei Menashi colony nearby.
It has a population of 1890 people who depend on agriculture as a living.