Opening a colonial road and uprooting 13 olive trees for the benefit of Bruchin in Salfit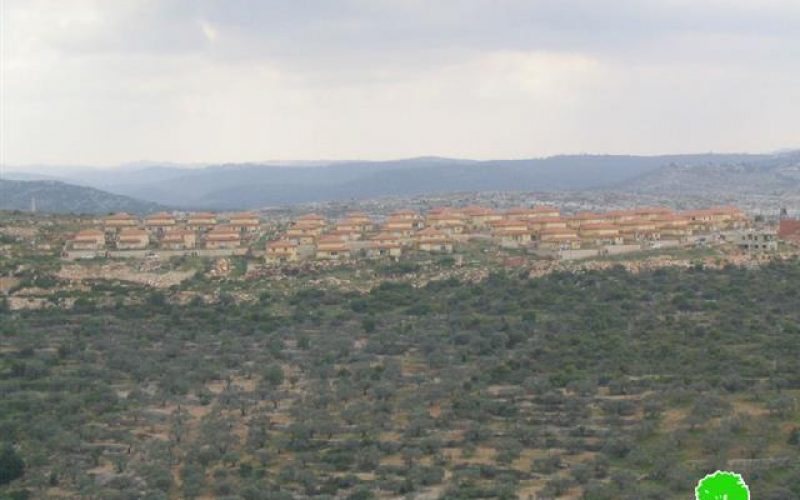 Violation: opening a new road for Bruchin colony and uprooting 13 olive trees
Date: 23/09/2013
Perpetrators: Colonists of Bruchin
Victims: Mohammad Mosleh
Details:
On 23/09/2013, Israeli heavy machines ravaged a piece of land belonging to citizens in Khillet Al-Sheikh- Sarta- Salfit, in order to open a road that links Bruchin with bypass '5.
Bruchin colony, which was built on Bruqin and Sarta lands, is going under expansion by adding prefabricated homes to the colony.
Mr. Abdullah Sarsor, a member in the village council, told an LRC observer that,
"There is a renewed policy by the Israeli occupation aiming at having full control over Khillet Al-Sheikh land, which is hundreds of dunums, on account of colonial activity. The road project they are currently carrying out is basically meant to improve the infrastructure of the colony so that they can link it to a number of roads and expand it in the near future."
Pictures 1-3: Dozers destroying trees while opening the road
The road project led to uprooting 15 olive trees that belong to a citizen named Mohammad Mosleh (58 years old) from Sarta. The Israeli dozers totally damaged the trees, uprooting them from their roots.
Bruchin was built in 1999 on west-northern Bruqin lands as a small colony. After the Second Intifada in 2000, the colony began drastically expanding. Colonists confiscated lands and denied farmers access to their lands and took advantage of the turmoil and the security belt surrounding colonies to expand the colony. The then Israeli Prime Minister, Ariel Sharon, encouraged colonists to seize as much land as they could and build random colonies. The successive Israeli governments encouraged the same policy.
Bruchin is named after Bruqin village on which the colony was built. The colony's area –until 2009- was 480 dunums and its built-up area was 266 dunums. After 2009, the colony ever expanded as colonists are offered protection and security and allowed to confiscate lands, harass farmers, and attack trees.
Picture 4: The colony of Bruchin