Expanding Barqan colony on Bruqin and Haris lands- Salfit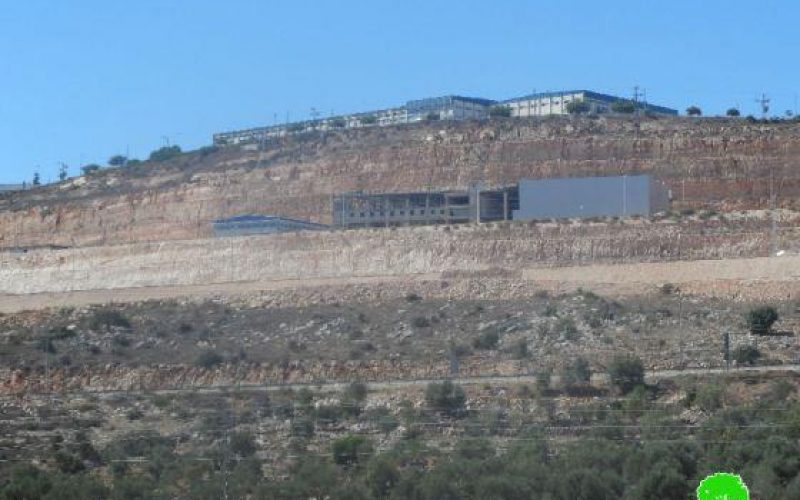 Violation: Expansion work in Barqan
Date: September 2013
Perpetrators: Colonists of "Barqan"
Victims: People of Bruqin and Haris
Details:
Barqan colony, at the heart of Salfit governorate, is undergoing a large-scale expansion work by ravaging vast areas of agricultural lands surrounding the colony. The ravaged area is no less than 80 dunums.
Barqan industrial colonists ravaged the lands in order to lay down infrastructure and water and electricity nets so that the colony could accommodate more factories.
There is already construction work taking place in the colony to build new factories, with no consideration of the negative impacts of such action.
Barqan is among the most prominent industrial colonies that contribute to the pollution of the Palestinian environment. It is worth mentioning that Barqan industrial does not comply with the Israeli and international laws regarding waste disposal because it is considered outside Israel. However, such factories and industrial colonies receive special privileges regarding exportation, services and taxes.
Barqan was founded in 1981 on Palestinian confiscated lands. The colony kept on expanding until its built-up area became 800 dunums. The colony is causing great damage to the environment and biodiversity especially that it is not under the control of official Israeli authorities nor is it a subordinate to the Palestinian National Authority. That means it is free to commit all sorts of violations without any deterrent.
The factories in Barqan, like lead and plastic factories among others, do not comply with qualifications and laws certified by World Health Organization. Thus, these factories pose real danger on human beings and other organisms.