Destroying 27 olive trees in Burin- Nablus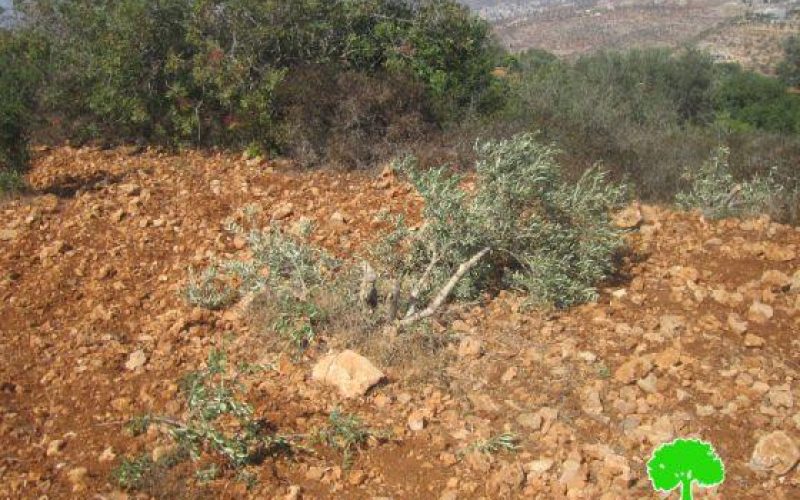 Violation: Partial damage of 27 olive trees
Location: Al-Burees/ Burin village- Nablus governorate
Date: 03/09/2013
Perpetrators: Colonists of "Yitzhar"
Victims: Suhail Aref
Details:
On 03/09/2013, a group of colonists from "Yitzhar" and "Bracha" raided the village where they attacked olive trees.
Olive trees are considered a symbol of the Palestinian existence and thus they are always attacked.
At dawn, colonists of "Yitzhar" sneaked in to Al-Burees in Burin that is 100 m away from the colony. Then they cut down and damaged 27 olive trees aged 30 years old using sharp tools. They also strip bark away from the trees to ensure afflicting permanent damage.
In an interview conducted by LRC, Suhail Aref (62 years old) told the interviewer that:
"This is not the first time this piece of land is under attack by colonists. During the olive harvest season in 2012, 3 dunums were set ablaze. And 4 years ago, more than 50 olive trees were cut down. We are living in turmoil since we cannot take advantage of our lands and are always subject to colonists' harassments. Tenths of agricultural dunums were rendered arid because farmers are denied access to them though they once were a source of income and a provider of vegetables and grains that used to meet the needs of the whole village. Besides, hundreds of dunums were confiscated for the benefit of "Bracha" and "Yitzhar" and their bypasses. Colonists form gangs that freely attack our houses, steal livestock and crops, and set fire to hundreds of olive trees among other crimes. All this happened and still happens under the protection and security of the Israeli army. We filed many complaints against these colonists to the Israeli police but to no avail."
Big loss:
Ali Eid, head of Burin village council, told an LRC observer that there is a retreat and decrease in the olive harvest during to continuous attacks on land by colonists and denial of access to farmers.