Yizhar colonists broke in a water reservoir in Asira Al-Qibliya- Nablus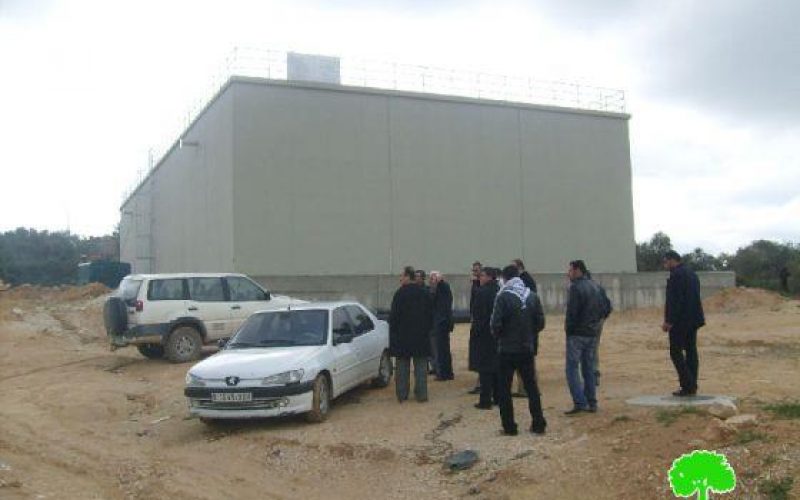 Violation: Invading a water reservoir and damaging the guard room and stealing some construction equipment
Date: 06/08/2013
Perpetrators: Colonists of Yizhar
Victims: People of Asira Al-Qibliya village
Details:
Asira Al-Qibliya, in the southern countryside of Nablus, witnesses waves of attack by colonists every now and then. Colonists harass farmers, take lands over and uproot trees.
The targeted water reservoir is under construction and is meant to be used by people of Asira village as a solution to the problem of water shortage. The village depends on buying water where 1 m3 costs 15 NIS which considered expensive.
On 06/08/2013, a group of fanatic colonists broke in the water reservoir which is funded by USAID and is 500 m3 in area. The results of the attack were: destroying the guard room adjacent to the water reservoir, stealing construction equipment that cost 3000 NIS, and smashing searchlights used by workers.
Picture 1: The water reservoir targeted by Yizhar colonists
Ahmad Asayra, head of Asira village council, explained to an LRC observer that, "From the moment we decide to build the reservoir- in March this year, it was attacked 8 times during the past five months."
He added,
"We communicated the Israeli coalition several times and we got promises, but nothing changed. Colonists keep attacking us. And I think the Israeli government offers protection and security to colonists in their attacks."
Information about Asira Al-Qibliya:
It is to the south of Nablus. Its area is 14,000 dunums, 3000 of which were confiscated to expand Yishar colony. There are 2000 dunums of land in the south eastern side of the village where farmers are denied access. The master plan of the village is 200 dunums. The rest is used in agriculture (60% olive, 40% grains).
It has a population of 2500 people, according to a 2008 census. 300 of whom are refugees from 1948 catastrophe.