The Israeli occupation sends stop-work orders for a cistern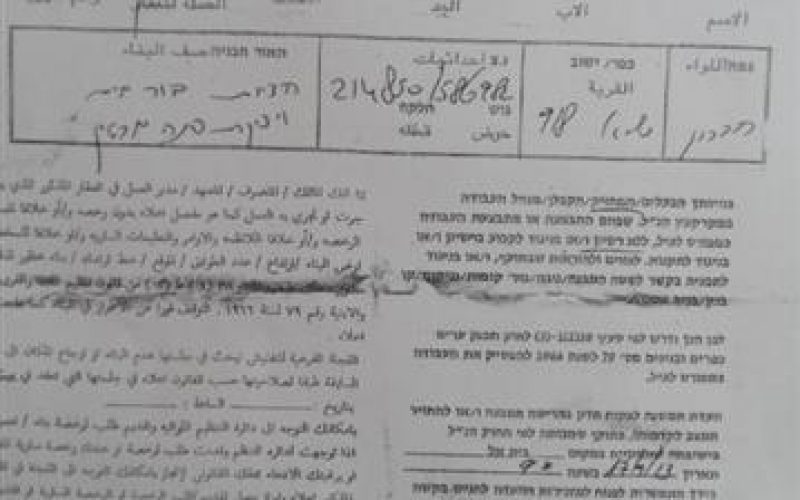 Violation: Sending an order to stop building a cistern
Date: 27/08/2013
Location: Khirbet Al Fakhit- Yatta/ Hebron governorate
Perpetrators: The Civil Administration of the Israeli occupation
Victims: Farmers from Yatta
Details:
On 27/08/2013, the Israeli authorities sent stop- work-and-construction orders for 8 water cisterns in Khirbet Al Fakhit, east of Yatta.
Citizens found the orders placed near the cisterns which are located in a fenced piece of land people were planning to turn into a natural reserve.
The warnings ordered people to immediately stop all construction work on the pretext of unlicensed construction and set 17/09/2013 as a date for the meeting of the Inspection Subcommittee in Beit El to decide whether to "demolish structures or return them to their previous status."
The 8 threatened cisterns are located in a 950-dunum fenced piece of land owned by families of Mohammed, Abu Eram, and Makhamra. The place was meant to be a nature reserve.
People started working on turning the land into a natural preserve in 2010 by submitting a request to the Agriculture Directorate in Hebron. The acceptance was granted.
'FAW' organization provided money to build a fence surrounding the land. It also donated money to build the 8 cisterns and renovate old ones. After the completion of building the cisterns which became ready for use, the Israeli occupation sent the orders.
After receiving the orders, people of Al Fakhit went to 'FAW' and 'Saint Eve' organizations to protest the Israeli resolutions.
Regarding the nature reserve, the plan was to plant the mountainous parts of the targeted land with trees and plant the plains with winter crops and preserve it for five years.
Regarding the cisterns, the plan was to fill them with water next winter in order to use them in watering the trees inside the preserve. The capacity of each well ranges between (80- 250 m3).
The threatened cisterns belong to:
1. Ahmad Mohammad Salama Mohammad
2. Ahmad Mohammad Ahmad Mohammad
3. Ali Ibrahim Hussein Mohammad
4. Ayed Yousef Mohammad Abu Eram