Stop-Work- and- Construction Orders in Yatta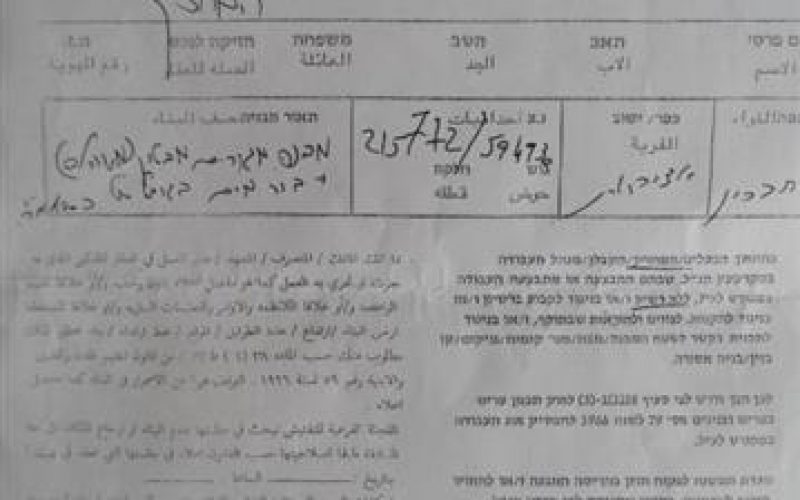 Violation: Stop-work orders in 7 buildings
Date: 09/07/2013
Location: Yatta/ Hebron governorate
Perpetrators: Israeli Civil Administration
Victims: Citizens from Deirat village/ Yatta
Details:
On 09/07/2013, the Israeli occupation authorities issued orders to stop building and working in houses, an agricultural institution, and a water well owned by citizens from Deirat village, east of Yatta.
Mohammad Da'ra, a member of the town council, explained that a jeep owned by the civil administration entered the village, went to where the buildings are located, delivered the warnings, and took pictures of them before they left.
The orders stated that these institutions are constructed without license. 04/08/2013 is the date settled for the Inspection Subcommittee meeting in Beit El colony to decide whether to "demolish or return the buildings to their previous status."
5 houses-4 of which are inhabited- a house under construction, a water well, and a stable are targeted in the orders.
The table shows the names of the citizens targeted:
Source: Field Research- Dept. of Israeli Violation Inspection- Land Research Centre, July 2013
Deirat village:
6km away from Yatta. An agricultural land with a population of 400 served by a town council. A bypass that connects colonies crosses the village. Deirat is surrounded by Al-Karmel colony from the east and Ma'oun colony from the south.