Kherbit Silon witnesses Israeli attempts at Judaizing Palestinian history & heritage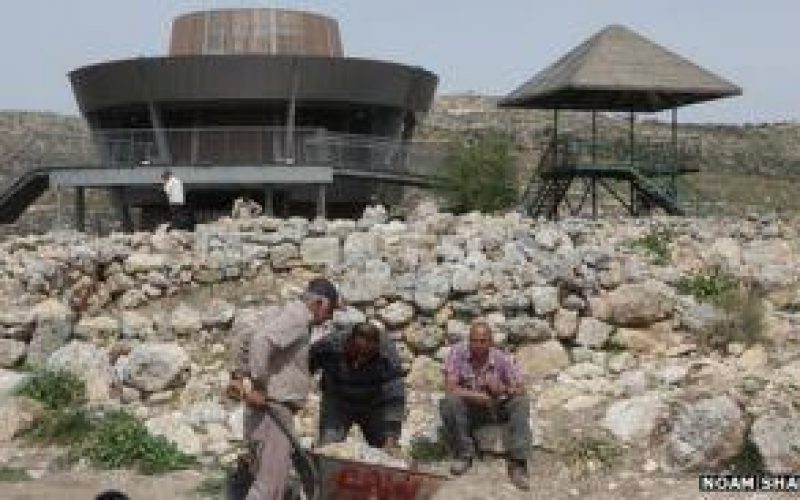 Silon which is in the southern part of Qaryut, Nablus, has witnessed attempts at feigning history and stealing heritage by organized gangs of colonists.
The Israel Antiquities Authority took over Silon in the late 70s of the last century and called it "Shilo" which is a Canaanite word meaning the place of rest.
Silon is rich with architectural marvels that reflect different civilizations including Canaanite, Roman, Byzantine, and Islamic.
The Israeli occupation has been seeking to deface all historical traces of the place and turned a mosque into a Jewish religious shrine.
Preparations have been made to celebrate Silon or Shilo as a Jewish archeological site, not Palestinian. Israelis are working at opening a new tourist centre on a hill overlooking Silon. The centre cost the government millions of dollars and is expected to open within the few coming weeks.
The so-called Israeli Ministry of Education in the previous government declared that Silon is within the Jewish heritage and allowed religious Jews to make field trips to it. That came in synchronization with declaring the Ibrahimi Mosque in Hebron and Joseph's Tomb in Nablus parts of Jewish heritage.
The Israeli occupation facilitated taking over historic places by announcing that more than 550 archaeological sites in the West Bank and Jerusalem are in an area classified C according to Oslo and are under total Israeli control.
Moreover, the Israeli occupation worked on building colonies and outposts in the historic places and declared them closed military zones just like they did with Silon.
The Israeli government offered great facilitations to gangs of colonists whose main aim is stealing and forging Palestinian heritage. They sell some of the Palestinian monuments within the green line in cheap prices. The Israeli government is a real partner to those gangs who are moving pieces of heritage to the nearby colonies in an organized way that reveals the plans of the occupation to forge the Palestinian history.
Pictures 4+5: organized operations by colonists to steal heritage and Judaize the region Picture 6: the table of food that descended on Isaac according to myths
Picture 7: digging in the region by the Israeli occupation