Damage of 62 Olive Trees in Tarmis'ia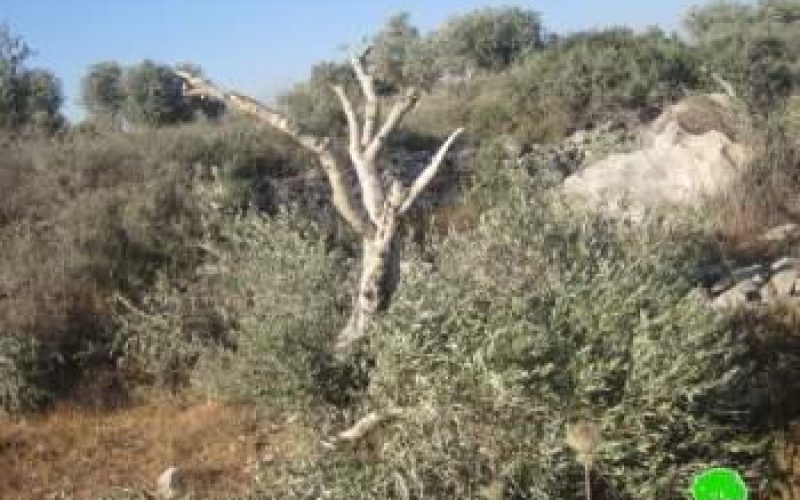 Violation: Cutting down and damaging 62 olive trees in Tarmis'ia town
Date: 14/07/2013
The perpetrator: "Adi Aad" Colony
Location: Ra's Al-Taweel- Tarmis'ia town/ Ramallah Governorate
Details:
On 14/07/2013, Tarmis'ia went under a new wave of attacks on trees when a group of colonists raided Ra's Al-Taweel northern Turmus'ayya. Colonists cut down 61 olive trees (of which 40 trees are estimated to be 15 years old and got partially damaged and 22 olive saplings that are 5 years old and got totally damaged). The damaged trees belong to a farmer named Mohammad Abu-Awwad, the breadwinner of his 9-member family, five of whom are children.
Colonists were not satisfied enough by cutting down the 5-year-old olive trees but they also stole them to plant them in Adi Aad which is located on the lands of Al-Mogher and Tarmis'ia villages. Colonists also used two tractors to ravage the land rendering Palestinian farmers unable to use it again. Abu-Awwad asserts to a Land Research Centre member that he "owns all the legal documents that prove his ownership of the land. Registration and inheritance documents prove Israel's claim that the land belongs to the state wrong. "
Saed Rabi', a citizen, adds that the attack on his land is not the first. "In 1993, Israelis plowed his land and cut down all the trees. In 1999, Israeli Supreme Court admitted our ownership of the land and so we planted it again. However, after twenty years settlers did the same again, now they came with the pretext of claiming the land for the state."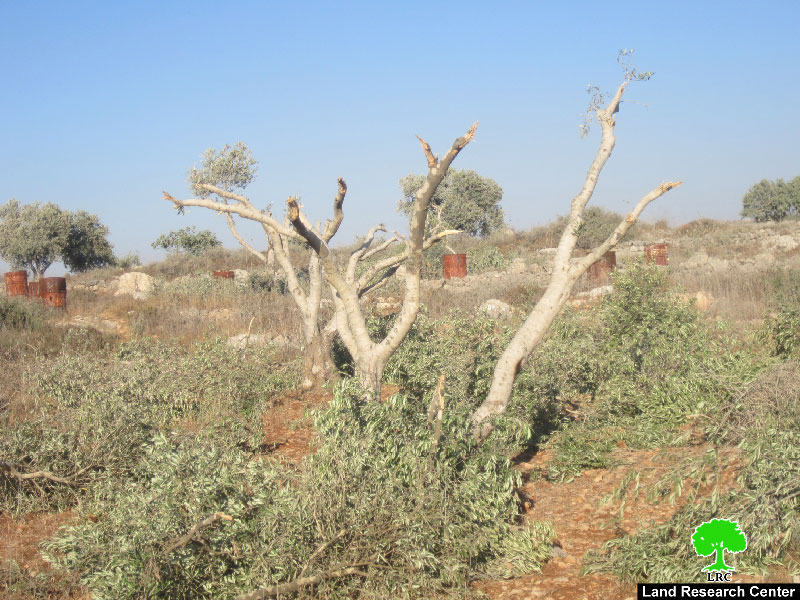 Tarmis'ia in lines:
Tarmis'ia is located to the north east of Ramallah, 23km away in specific. Its population is about 4200 divided between two big families: Awad and Jabara beside some small refugee families as Shalbi, Koak, etc. The area of Tarmis'ia is 18,000 donums according to the town council, 3000 donums are infrastructure and internal structure while 4000 donums are agricultural land suitable for planting vegetables and fruit.
It is worth mentioning that 7,000 donums of Tarmis'ia are under colonization activity. From the northern side, it is surrounded with "Shello" and "Shfot Rahil" settlements. From the southern eastern side, there is "Adi Aad" which takes over the eastern mountains of Tarmis'ia. Colonization activity has had a very negative effect on people's lives for they cannot expand the town northerly nor easterly. Besides, land dedicated for planting olives was closed for "security reasons" and people cannot get access to it unless they get a permit from what is called "Israeli Civil Administration."
Prepared by
The Land Research Center
LRC