6 Donum Plot Land Burnt in Nablus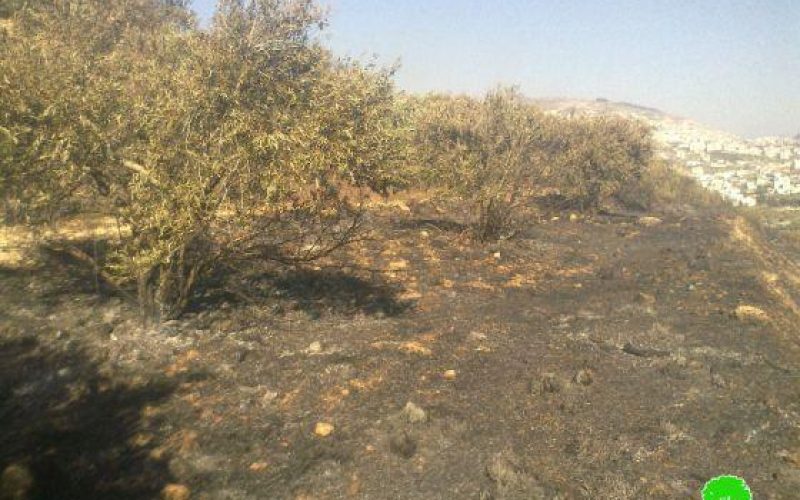 Violation: burning 6 donums of land that led to the damage of 32 olive trees
Date: 02/07/2013
Location: Howara town/ Nablus governorate
Perpetrators: colonists of Yitsihar
Victims: Two farmers
Details:
A group of colonists burnt 6 donums of agricultural land in the northeastern part of Howara, specifically in a place known as "Lohaf". That action led to total damage of 8 olive trees and partial damage of 24 others. The damaged trees belong to: Farmer Hasan Asmar (17 trees) and farmer Abdul-Naser Awda (15 trees).
Mr. Mo'en Al-Damidi, head of Howara town council, stated to an LRC observer that:
"on Tuesday at around 1 o'clock, we were surprised to see a big group of colonists attacking agricultural land in the northeast of Howara. The land is 600m away from the households of the citizens. Colonists shot fire in the air to scare people around and scatter them. Then, they set fire to the land which is partly planted with olive trees and to which Palestinians have no access due to its closeness to the colony of Yitsihar. "
In the past, the land was a source of income to its owners but after the establishment of Yitsihar colony, things changed as colonists attack people. During the past ten year and on the same spot, colonists have set fire to burn crops and have severely beaten people. These attacks have increased for the past few years throughout the new year. Colonists ravaged the area around a water well twice during the last two years causing water contamination. Not to mention the daily abuses people are subjected to when crossing the bypass no. 60 which goes past Howara. Colonists throw stones at passersby and attack farmers and shepherds if they get close.
A glimpse on the Settlement:
The colony of Yitsihar was built in 1983 on Palestinian farmers' pieces of land in the villages of Boren and Qabliyya, southwest Nablus. It was built as an outpost but soon it expanded by confiscating 10 donums from the villages of Boren, Qabliyya, O'ref, Madma, and Howara. The built-up area of the colony is estimated to be 158 donums while the area of the confiscated land is 1800 donums. It is founded on the shrine of a great Muslim leader called Salman Al-Farisi, after whom the mountain surrounding the area is named.