Stop-construction orders sent to four families in Nablus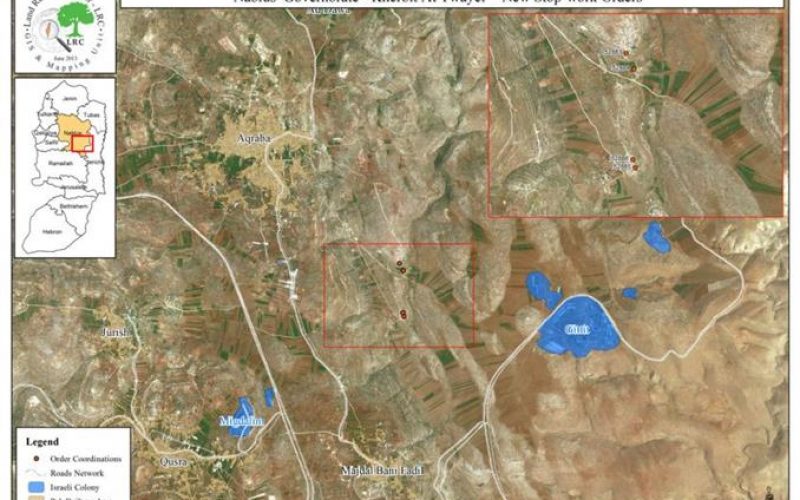 Violation: Sending stop-work-and-construction orders for agricultural and residential structures
Location: Khirbet Al-Taweel- Aqraba- Nablus
Date: 19/06/2013
Victims: 4 Bedouin families consisting of 26 people, including 10 children
Details:
On 19/06/2013, the so-called Inspection Subcommittee of the Israeli occupation raided the Bedouin dwellings in Khirbet Al-Taweel, east of Aqraba, where it handed four Bedouin families orders that demand halt of construction work on the pretext of unlicensed construction in an area classified "C" according to Oslo Accords.
The Israeli occupation gave the owners a respite till 16/07/2013 to apply for construction permits. The same date is set for the meeting of the Planning and Construction Committee in Beit El court to consider the status of the threatened structures.
The table gives information about the targeted buildings in Khirbet Al Taweel:
Area (m2)

Threatened of demolition for the 4th time

Threatened of demolition for the 2nd time in one year

Threatened of demolition for the 4th time

26

10

6

295
*Source: Field Research- Monitoring Israeli Violations Team- Land Research Centre (LRC).
Khirbet Al Taweel has reins, Islamic and Roman, and is a meeting point for dwellings. The fact that it has old remnants means that it has been inhabited by people long time ago. The moderate climate in winter has helped to make the land of Khirbet Al Taweel futile for winter crops. The abundance of pastures has also helped farmers to take advantage of the land.