Stop-work Orders for Five Families in Tubas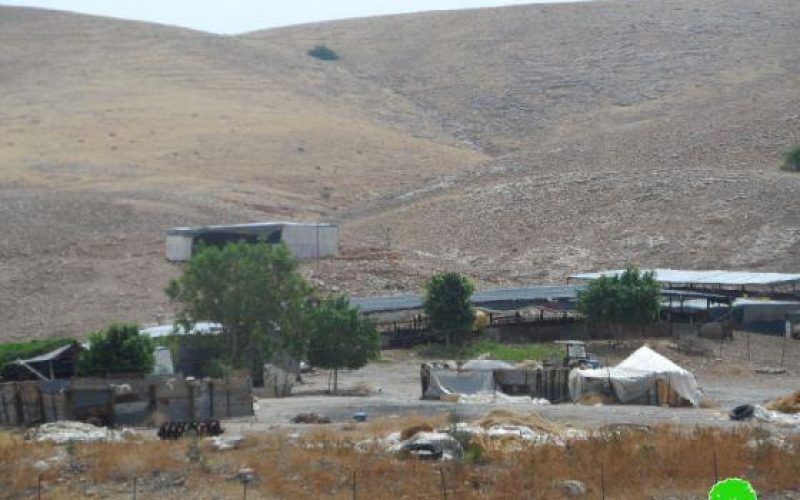 Violation: stop-work orders for 9 residences and 12 barns.
Location: Al Hadidiyyah, Al Ras al Ahmar, Humsa.
Date: May 8, 2013.
Perpetrators: the Israeli Occupation Army.
Victims: 5 Bedouin families, a total of 51 people including 16 children.
Details:
Officers of the so-called Inspection Subcommittee broke into the Bedouin communities in the Northern Jordan Valley on May 8, 2013 before handing families stop-work orders for a number of structures.
The orders were issued under the pretext of unlicensed construction in area classified 'C' according to Oslo Accords.
The owners were given till June 2, 2013 to respond to the orders in a hearing session to e held at Beit el Military Court.
Table 1: notified structures:
Order no.

area (m2)

area (m2)
Al Hadidiyyah and Al Ras al Ahmar – an Overview:
Al Ras al Ahmar and Al Hadidiyyah are located to the east of Tubas city. They are inhabited by around 400 people spreading over more than 70 dunums. T
he locals depend largely on agriculture and herding in their living. T
he Israelis have been trying to evict the residents of Al Hadidiyyah by any means including demolition threats, actual demolitions, land confiscations, etc; while the Israelis claim that the village is located within a "military zone" despite the Israeli Supreme Court order that granted them 91 dunums to reside in.
It is surrounded by the Israeli colonies of Beqaot and Roi (west); and Hamadat (east)