Demolition of four residences in al Mukabber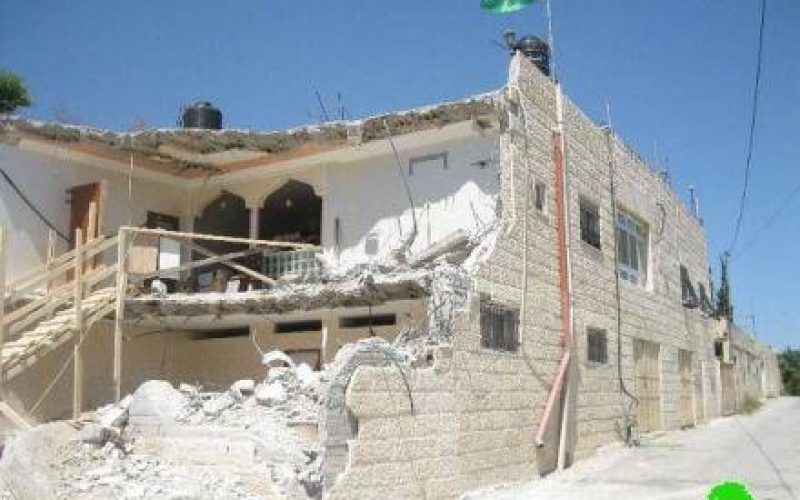 On May 21, 2013, the Israeli dozers demolished a building with four apartments; the apartments are property of:
Raed commented: "in 1930, the house was built to accommodate the family, 40 years later, my father added two rooms and a kitchen to the house; at that time, the Israeli Occupation Authorities accused him of unlicensed construction and ordered him to pay a fine or be imprisoned. He had no choice as he did not have enough money to pay the fine; as a result, he was imprisoned for 18 months.
In 1990, we built a building with 4 apartments, 2 in each storey. 16 years later we received a demolition order and our presence was required in Court to discuss the situation. The Court fined us an amount of 160,000 NIS and ordered us to acquire construction license. We hired an engineer and prepared the needed documents but the application was rejected; the Israelis claimed that the land has already been confiscated for "public usage". So far, we have paid 152,000 ILS of the total amount of the imposed fine. At 11:00 on May 21, 2013, officers of the Israeli Municipality in the Occupied City showed up with the intention to demolish the building; we objected saying that we have not received any demolition orders neither did our lawyer. They showed us a demolition order that was issued on October 15, 2012. The lawyer made some calls but only managed to postpone the demolition for three hours; at 14:00 the dozers embarked on demolition after clearing the contents of the building. During the demolition, Israeli soldiers abused my brother Samer and his brother in law who were beaten badly and dragged to detention center. We baled them out but now we are living at some relatives' houses till we find a place to go to".