Bulldozing Agricultural Lands and Demolition of Cisterns in Beit Ula town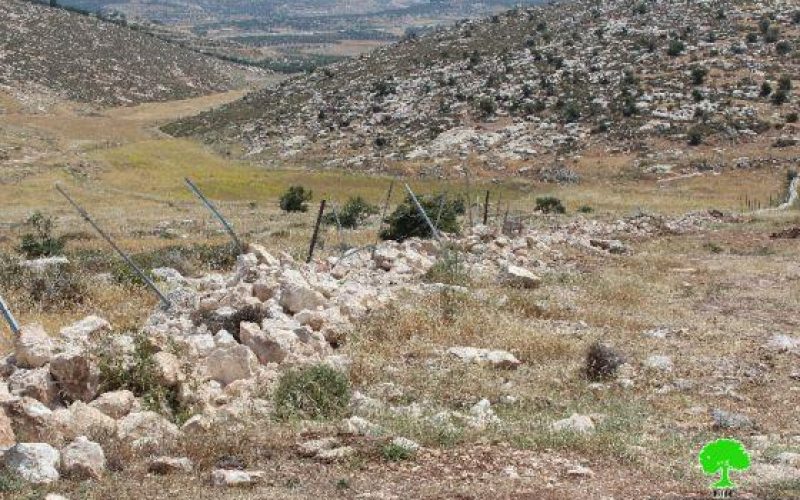 Violation: bulldozing agricultural lands and demolition of cisterns.
Date: May 6, 2013.
Location: Atous, Khallit Alqam, Deir Ibn Ibead in Beit Ulla – Hebron.
Perpetrators: the Israeli Occupation Army.
Details:
Photo 1: Electricty Poles
On May 6, 2013, Israeli troops accompanied by two dozers broke into Beit Ulla town before embarking on knocking down part of the electricity network in the village; mainly 12 poles covering a distance of 1700 meters.
1700 meters were removed
In addition, the Israeli dozers leveled lands in three sites in Beit Ulla:
Atous:
One of the most targeted areas in the town; the Israeli Occupation Authorities claim that the area is "state property" and ban any work in the area.
Israeli patrols are keeping an eye on Palestinian farmers activities and any reclamation or rehabilitation of land is faced with immediate destruction.
In May, the Israeli Occupation Army leveled lands, property of Mohammad AlAmleh; an 80-m3- cistern and 600 m2 of retaining walls were knocked down in the process.
Knocking down retaining walls
Khallit Alqam:
Israeli dozers leveled 12 dunums of agricultural lands and uprooted 200 olive, 300 prune, 100 grape and 30 fig and cactus seedlings in the process. They also demolished a 100-m3-cistern that was used to supply 870 m2 of agricultural lands.
The lands before the Israeli intervention
Destroyed lands – Khallit alqam
Deir Ibn Ibead:
Israeli dozers leveled 9 dunums of agricultural lands, property of Issa and Khader al Sharif. Issa saod that the dozers demolished 100 m3 cistern and uprooted 170 olive and 120 prunes seedlings.
In addition, 560 m2 of retaining walls were demolished.
Scenes of the Israeli attack on Beit Ulla