The Israeli occupation Authorities confiscated two cows and drugged five others in Toubas governorate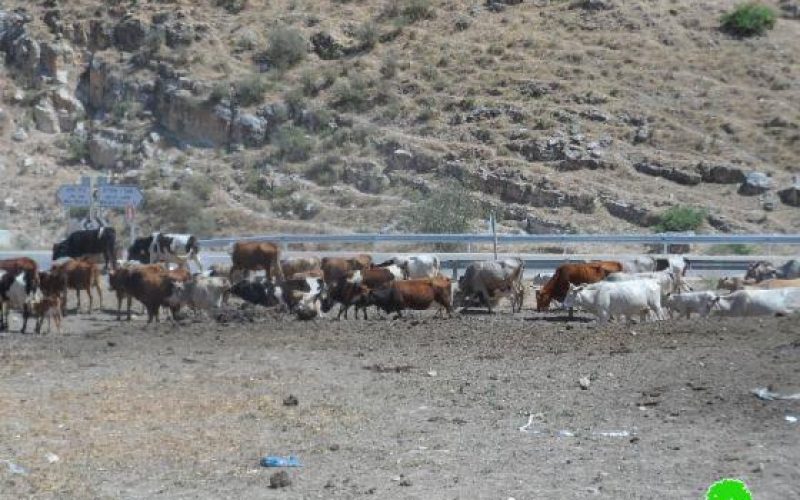 Violation: The Israeli occupation confiscated two cows and drugged five others in Toubas governorate

Date: 8/04/2013

Perpetrators: The Israeli occupation army

Victims: A farmer named Qadri Daraghma

Details:
In their continuous efforts to tighten their grip around the Palestinian ghors and make life harder on Bedouin residents there, an Israeli occupation force drugged 5 cows that belong to Qadri Daraghma, a farmer in Ein AlHolwa. As a result, the cows went dizzy and 4 of them fainted. It is but expected that their production rate was decreased afterward.
In the same context, the Israeli occupation confiscated two cows that belong to the same farmer. The occupation also imposed a 1900-per-head fee on the farmer. The cows were transferred to a near Israeli occupation camp.
Daraghma sated to an LRC observer that:
"I am sure there is a will to target my 70 cows that are chased by the Israeli occupation every now and then for they pose a danger to the colonists' cars crossing the bypass as the occupation claims. Other times, they chase after the cows on the pretext of their entrance to closed military areas or because they eat plants and thus endanger the natural diversity according to the Israeli Environment Protection Authority. In the end, as you see, they attack and harm cows and sheep in the region."
Daraghma also added, "After confiscating cows and imposing a fee, I went to the Israeli occupation camp on 10/04/2013 to get them back to find, to my own surprise, that they were preparing for a tender to buy the cows. I saved them in the last minute."
The Israeli policies have led to a noticeable drop in the number of shepherds and livestock breeders due to the harassment and attacks they go through by the Israeli occupation.