Forging of History in Deir Saman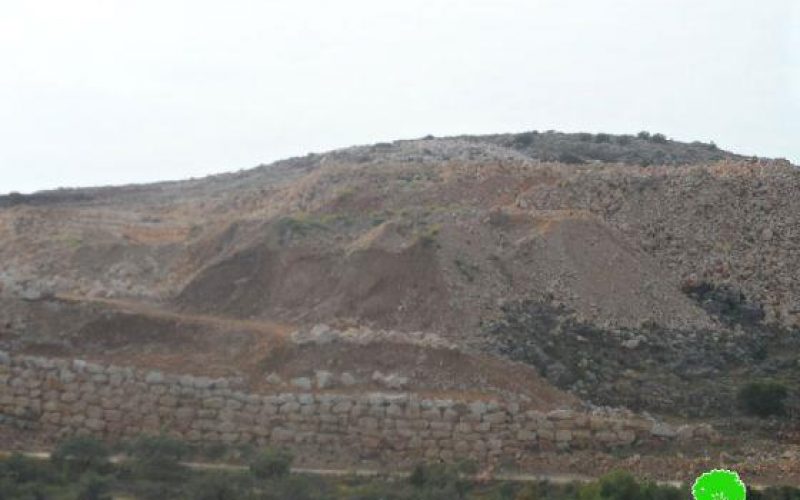 Violation: forging history and theft of artifacts.
Date: April 10, 2013.
Perpetrators: the Israeli Occupation Army.
Location: Deir Saman to the north of Kafr ad Dik village – Salfit.
Preface:
Since the early days of the occupation of Palestine, the Israeli Occupation Authorities have launched a total war against the Palestinian houses, economy, lives, and identity. The Israeli targeting of archeological sites is a way to erase the Palestinians heritage and culture in an attempt to detach them from the lands and erase their long lasting history.
The Israelis act as if they have secured their presence on the lands of Palestine and now it is time to erase the identity of the Palestinians despite all the international conventions and agreements which called for the protection of archeological sites.
Details:
Deir Saman is an archeological site holding several Roman ruins; it is located in an area classified 'C' according to Oslo and it has been inaccessible for years due to its closeness to Eli Zahav colony.
This encouraged the Israeli Occupation Authorities and colonists to excavate the ruins looking for artifacts. T
hey went further by transporting some of the ruins and the things they had found into the nearby colony; they even used the old rocks that were used for construction to construct houses in the colony in an attempt to find a historical linkage with the colony.
Deir Saman is one of 22,000 archeological sites in Palestine that are threatened of erasing due to the Israeli measures.
Expansions in Eli Zahav and Bedouil colonies:
Meanwhile, Israeli dozers are laying foundation for so far biggiest expansions in the colonies of Eli Zahav and Bedouil. Tens of dunums of agricultural lands were leveled for the construction of several residential units.