Colonists of Yizhar Ravage 66 Olive Seedlings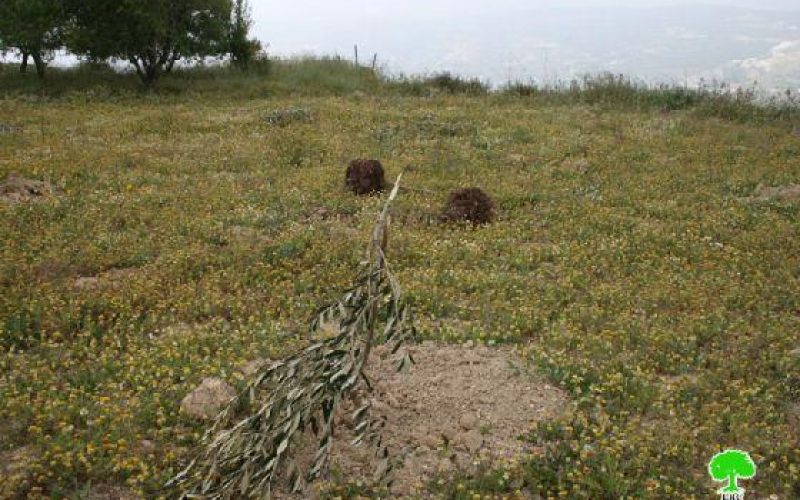 Violation: uprooting 66 olive seedlings.
Date: April 12, 2013.
Location: Al Marah area in Urif village – Nablus.
Details:
On april 12, 2013, a group of Israeli colonists coming from Yizhar uprooted 66 olive seedlings in the area known as al Marah in Urif village; al Marah is located nearby the colony of Yizhar.
The seedlings were planted a year earlier.
Tension has increased in Al Marah area in recent years due to increased harassments by colonists.
Yizhar:
The colony of Yizhar was established in 1983 on Palestinian lands belonging to the villages of Burin and Asira Al Qiblia south west of the city of Nablus. The colony has expanded multiple times ever since as additional tens of dunums were confiscated for that purpose. The additional dunums were taken from the villages of Burin, Asira Al Qiblia, Urif, Madama and Huwwara. The built-up area of the colony was 158 dunums as of 2005 while the area of land under its jurisdiction is about 1,800 dunums.
The number of Israeli colonists in the colony has grown over the years; in 1983 there were 64 colonists while in 1998 the number grew to 291. In 2004 around 534 colonists lived there. Around 90% of them belong to the so-called "Guardians of the Temple", and extremely radical right wing group.
Colonists of Yizhar have embarked on attracting more colonists to come and reside there; a number of mobiles homes have been placed over 'Asira's lands; 1 km away from the colony built up area.
In addition, a number of roads are being opened within the boundaries of the colony, setting infrastructure for its development and expansion.
The Israelis are trying to connect the colony with the huge colonial compound in the area; a road was opened to connect the colony with by-pass '60' which leads to Shavi Shamron colony to the north of Nablus.
Another road was opened to connect the colony with Itmar; tens of dunums were destroyed in the process.