Colonists Desecrate Two Mosques in Tequ village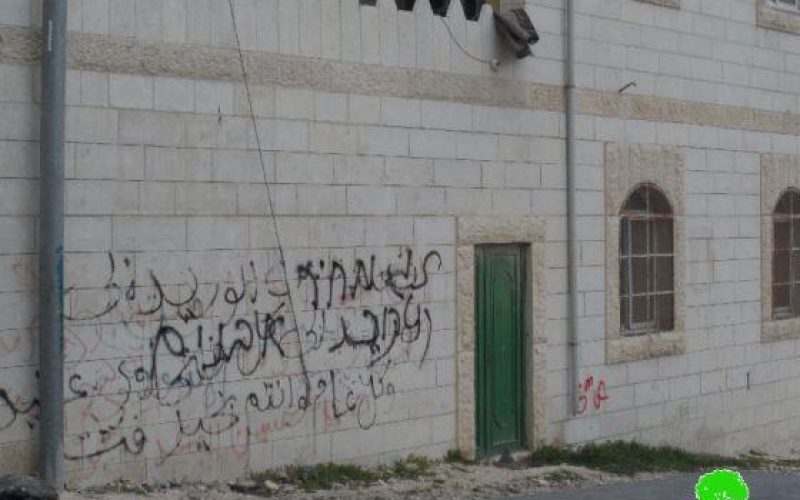 Violation: colonists write offensive slogans on the walls of two mosques in Tqu'.
Location: Tqu' – Bethlehem.
Date: April 7, 2013.
Details:
Tqu' has been the subject of several attacks on its residents and structures in recent years. On April 7, 2013, Israeli colonists broke into the village and wrote offensive slogans on the walls of Bilal Ibn Rabah Mosque and Saladin Mosque in the village.
T
he colonists also punctured the tires of two vehicles that were parked near the mosque.
The slogans included threats to the villagers and were signed by the so-called "Payback" group which is a group of colonists which has been responsible for numerous attacks in the West Bank.
The number of attacks carried out against mosques by burning them, destroying their contents, or writing offensive slogans on their walls have become a usual scene while these colonists carry out such attacks under the protection of the Israeli Occupation Army.
Tqu' is an old Canaanite name which meant "placing of tents"; the crusaders called it "Thecua" as it was one of their strongholds in Bethlehem area.
Tqu' has a great deal of Roman, Greek, and Mamluke ruins considering its strategic location.
One of the most significant ruins is the "baptism basin" which is a stony artifact that has been cut and formed. It represents a number of Christian sects.
It is believed that the artifact has been made around the 1750s; it is also believed that this is one part of a two-part artifact; the second part's location is unknown.
Tqu' is surrounded by 5 Israeli colonies including Tquah, AlDavid, Nikudim, in addition to two other colonies to the south, Mizpe Shalim and Mushki Dar Got.
Tqu' total area is 9 km2; its actual borders extends to the east reaching the Dead Sea making its area 80 km2.
It is inhabited by 8565 people.