Stop-work orders for residential and agricultural structures in Yatta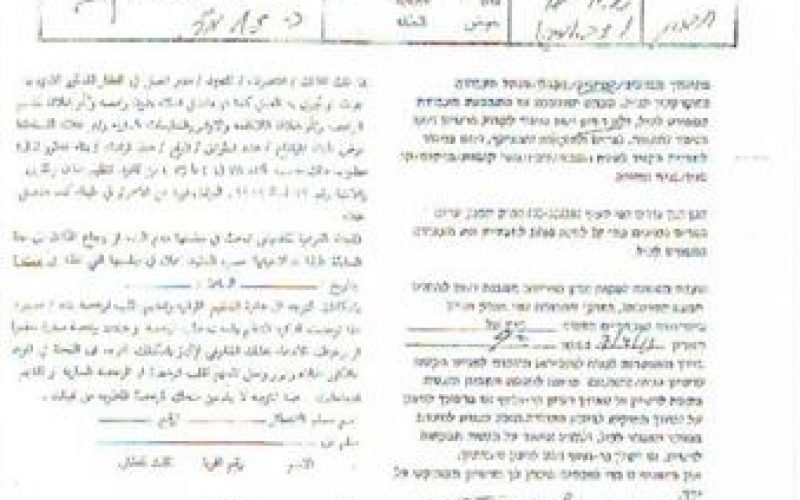 Violation: Handing over 20 stop-work orders for 7 families
Date: 06/03/2013
Location: Khallet Ad Daba'- East of Yatta- Hebron governorate
Perpetrators: The Israeli occupation army
Details:
On 06/03/2013, the Israeli occupation authorities sent people of Kallet Ad Daba' orders to stop working in and building agricultural and residential structures as well as water wells.
According to Mahmoud Hamamda, an Israeli military force along with officers of the Civil Administration raided Khallet Ad Daba' and deployed their soldiers while officers of the Civil Administration wrote the orders and handed them over to citizens.
According to the orders, all targeted structures are unlicensed and thus construction work has to stop immediately in all of them. They set 07/04/2013 for the meeting of Inspection Subcommittee in Beit El colony to decide whether to demolish the structures or return them to their previous status.
It is worth mentioning that Khallet Ad Daba', east of Yatta, is declared a "Shooting area 918" and considered a place for military practices according to the Israeli occupation. Thus, the latter has been trying to force people out of the area.
Khallet Ad Daba' lacks basic daily services and its people depend on sheep grazing and agriculture as sources of income.
The table gives information about the targeted structures and their owners; noting that taking pictures of the structures is extremely difficult as access is denied to the "shooting area 918" and there are threats of attacks especially that cases of attacking and confiscating vehicles by the Israeli occupation were recorded.
60 m3

60 m2

1.5 m2

40 m2

70 m3

60 m2

1.5 m2

60 m3

25 m2

12 m2

50 m2

20 m2

70 m3

70 m3

70 m3

40 m2

1.5 m2

40 m2

6 m2

62

27

19
*Source: Field Research- Monitoring Israeli Violations Team- Land Research Centre (LRC).
The eviction orders delivered to the people of Khallet Ad Daba'