Damaging 78 Olive Trees in Qariot village – Nablus Governorate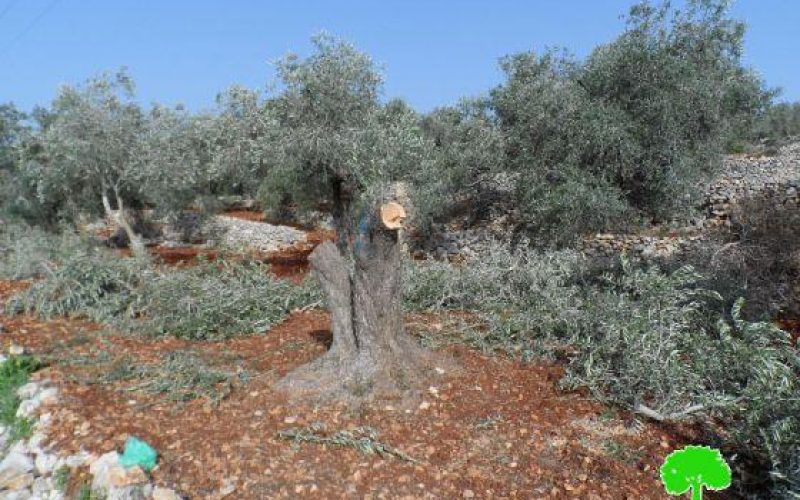 Violation: Total damage of 78 olive trees
Location: Qariot village/ Nablus governorate
Date: 12/03/2013
Perpetrators: Colonists of "Hyofal Rahel"
Victims: A family of 11 members
Details:
A group of extreme colonists uprooted and damaged 78 olive trees whose age is estimated to be ranging around 70-90 years old. The attack was carried out east of Qariot village.
The colonists used sharp tools in cutting the branches of the trees thus rendering them barren and unproductive.
The damaged trees belong to a farmer named Mohammad Shehada (48 years old) from Qariot. Shehada was attacked several times during the past two years. His land is only 1km away from the outpost.
Shehada asserted to an LRC observer that,
"For more than two years, we have been receiving threats from radical colonists of murder and attack in case we show up in our lands near the outpost. Despite the threats, we are determined to cling to our ancestors' land. On 10/03, a group of Israeli soldiers and colonists forced us to leave our land while we were plowing it. The next day as a revengeful act, the colonists cut down 78 olive trees. That act proved their contempt and inhumanity."
People of Qariot are afraid of their future in the town due to Israel's unwavering efforts in confiscating their lands in favor for colonial projects. The latest of which was confiscating 1000 dunums at the end of the last year to build a new colonial road that connects "Hyofal" and "Shillo" colonies.
The road devoured 1000 dunums of the village lands and it is still in the first phase of implementation. At the same, the Israeli occupation is working on building another road that connects "Hyofal" and "Eili" colonies.
Qariot, which is 26 km away from Nablus, is surrounded by colonies. 3 colonies were built on its lands. To the south of the village, there is "Shillo" colony. From the west, there is "Eili". The third colony is "Hyofal Rahel" which is to the east southern part of the village.
Qariot is about 8471 dunums in area. 25% of it is under the colonial control of the Israeli occupation- the three colonies mentioned. The village is known for agriculture. Some of its famous products are: grapes, fig, olive, peach, vegetables and legumes.