Shutting off agricultural roads and destroying water pipes in Imreiha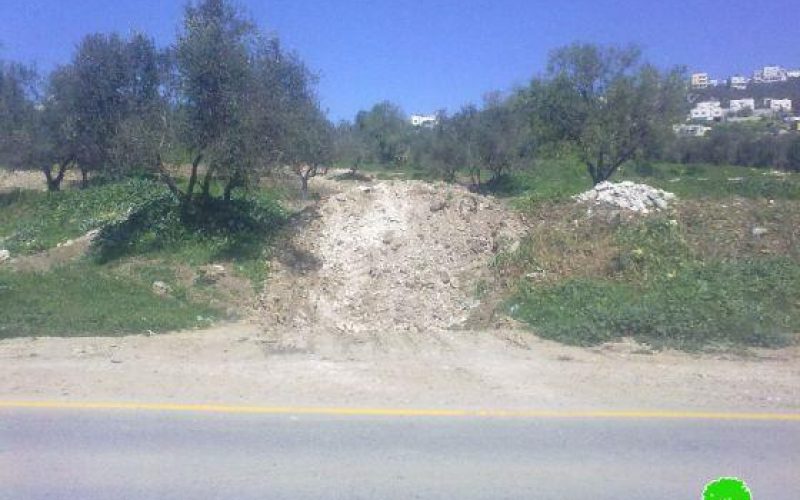 Violation: closure of agricultural roads in Ya'bad and damage of water pipes feeding Imreiha
Date: 27/02/2013
Perpetrators: the Israeli occupation army
Location: A bypass east of the town
Details:
On 27/02/2013, the Israeli occupation army closed off 5 agricultural roads by earth mounds. They also shut off a subway road connecting Ya'bad and Imreiha by closing an iron gate near Dotan checkpoint, west of Jenin.
That action fell in line with the Israeli policy that aim at disconnecting and harassing farmers especially if one knows that the closed roads are considered a link between farmers and their lands whose area is about 500 dunums and are planted with olive trees and field crops. Besides, they are considered a source of income to tenths of families in Ya'bad and Imreiha.
Destroying water pipes that provide water for Imreiha:
During ravaging agricultural lands in Ya'bad, the Israeli occupation destroyed water pipes that provide water to Imreiha. That pipe network transfers water from Ya'bad to Imreiha and pumps 290 m3 of water monthly.
Previous attacks on the region:
The Israeli occupation declared the adjacent road to the main road connecting Ya'bad and Imreiha a closed military zone. The Israeli occupation closed off agricultural roads there several times before and even denied farmers access to their lands for "security reasons" according to the occupation. That eventually led to harming the agricultural industry in the region in addition to the time and efforts exerted by farmers to find alternative roads to pass.
Imreiha is most affected by the road closure policy in the region. During the past years, and especially between 2000 and 2005, Imreiha turned into a deserted town deprived from the most basic daily services due to road closures.
Imreiha in lines:
Imreiha has a population of 500 people. It located between Hermesh colony and Mevo Dotan 1 and Mevo Dotan 2 colonies. It is in the southern part of Jenin, 2 km to the west of Ya'bad, and adjacent to Jenin-Tulkarm road that has been closed since the Second Intifada for more than 6 years now. Refugees from near Haifa live in this town.
The Israeli occupation, according to the head of the town council, does not acknowledge Imreiha and considers it an illegal gathering in an area classified C according to Oslo. The town lacks infrastructure; there is no school, medical clinic, water and electricity network, mosque and even no agricultural roads. This is all due to the pressure practiced by the occupation on the 75 families of the town to drive them away from the region. People of Imreiha depend on nearby Ya'bad to get basic daily services.